TPP y Ley de Protección de Datos Personales marcarán debate digital en 2013

posted 25-January-2013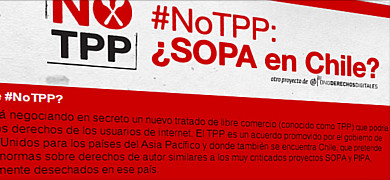 Conexión social | 24 de Enero de 2013
TPP y Ley de Protección de Datos Personales marcarán debate digital en 2013
Conexión Social de esta semana analizó el estado de los temas que serán clave para el respeto de los derechos digitales durante 2013. Justo cuando se cumple un año de la paralización de la polémica ley "SOPA" en Estados Unidos, vuelve a tomar impulso el Tratado de Libre Comercio Transpacífico (TPP) que impone nuevas restricciones a la Red en nombre de la protección de los derechos de autor, y del cual -todo apunta- Chile quiere será parte, pese a que no le deja ningún beneficio económico.

Paz Peña conversó en el estudio con el abogado Francisco Vera, presidente de la ONG Derechos Digitales, quien recordó que con el TPP "se tiende cada vez más a reducir el espacio de la esfera de libertades que tenemos en torno al conocimiento, particularmente en Internet, lo que responde a los intereses de Hollywood y de la industria discográfica norteamericana".

"Uno de los grande problemas de las leyes de propiedad intelectual es que ya no está la distinción entre el uso personal y comercial, no se distingue la conducta de las personas e instituciones y se asume que todas son delito"

"La desconexión a Internet por leyes de propiedad intelectual en el fondo es una especie de censura, y el relator de Libertad de Expresión de la ONU ha dicho que el acceso a Internet es un tema de Derechos Humanos"

Ley de Protección de Datos Personales

El otro punto en el debate de la agenda digital, tiene que ver con la tramitación de la nueva ley de protección de datos personales, que viene a sustituir a la legislación de 1999 que "nació muerta".

Francisco Vera cuestionó que la atribución para cuidar la información recaiga en el SERNAC, que -a su juicio- no cumple los estándares actúales para un institución de este tipo. "En otros países hay Agencias de Protección de datos personales que pueden promover una agenda, supervisar, autorizar, manejar los registros de base de datos, pero también pueden sancionar a quienes infringen la ley, y el problema es que el SERNAC no puede hacer eso, es muy difícil que salga de este paradigma de 'apuntar y acusar', es una 'máquina de conferencias de prensa' más que un organismo público con poder real", afirmó.
News from the movements
more
bilaterals.org is a collaborative space to share information and support movements struggling against bilateral trade and investment deals which serve corporations, not people. Multilingual. Global. No one owns it. Open publishing. Get involved.