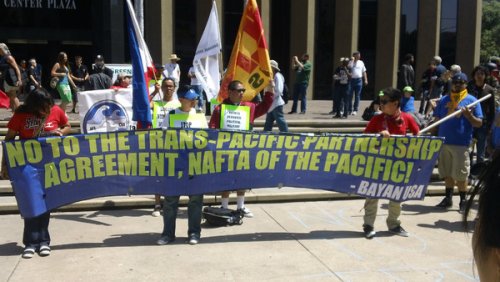 San Diego City Buzz Examiner | July 7, 2012
Trans Pacific Partnership protest marches on San Diego; Arrests made
Kali Katt
San Diego Civic Center filled again with protestors and activists getting ready to march upon the Hilton Bayfront in downtwon San Diego
Arrests were made Saturday as the Trans Pacific Partnership Agreement protest marched on the Gaslamp district in downtown San Diego. Around 250 protestors of the so far 9-country free trade TPP agreement, the largest free trade agreement in the world, left the Civic Center at 11am, marched through the Gaslamp district, and arrived at the Hilton Bayfront hotel for a noon rally. After an hour long rally in front of the Hilton, many of the protestors took back to the streets of the Gaslamp district. It was during this second march that arrests began being made.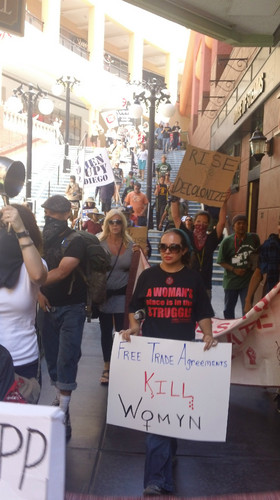 Police claim they were looking for individuals who were "tagging" private and public property during the marches. On site sources say while some individuals may have been tagging, it was not any of the arrested individuals who committed the alleged crimes.
Sergeant Kelsey Lawrence of the San Diego Police Department was on record today claiming over her radio that that "they (the protestors) keep splitting up, so it's not easy," in reference to trying to nail down the exact culprit of the alleged "tagging" incidents.
A press release from Canvas for a Cause reports more than two people were arrested, at that by the afternoon all but one had been released. Canvas for a Cause was asking for the last activist, who is transgender and so may have an even harder time in jail than most, to be released as well. They organized a call-in campaign yesterday afternoon, having numerous people call in to the Las Colinas holding facility urging for the activist to be released.
At the rally in front of the Hilton many spoke about the harms the TPP agreement will have on human beings in the United States and abroad, on issues ranging from worker's rights, to the environment, to intellectual property rights, to the free Internet, to healthcare and food. One speaker, Curtis "Brother Hex" Williams, claimed "the race is on between global corporate domination, and a global people's uprising."
Activist from Occupy San Diego stayed the night at the Civic Center the night before the rally, remembering when they lived there for months during their occupation protest at the end of last year. Here is some video of one of the occupiers talking about staying the night.
The Trans Pacific Partnership negotiations have been taking place since Monday July 2 and will conclude Tuesday July 11.