AfCFTA postpones launch date as focus turns to curbing virus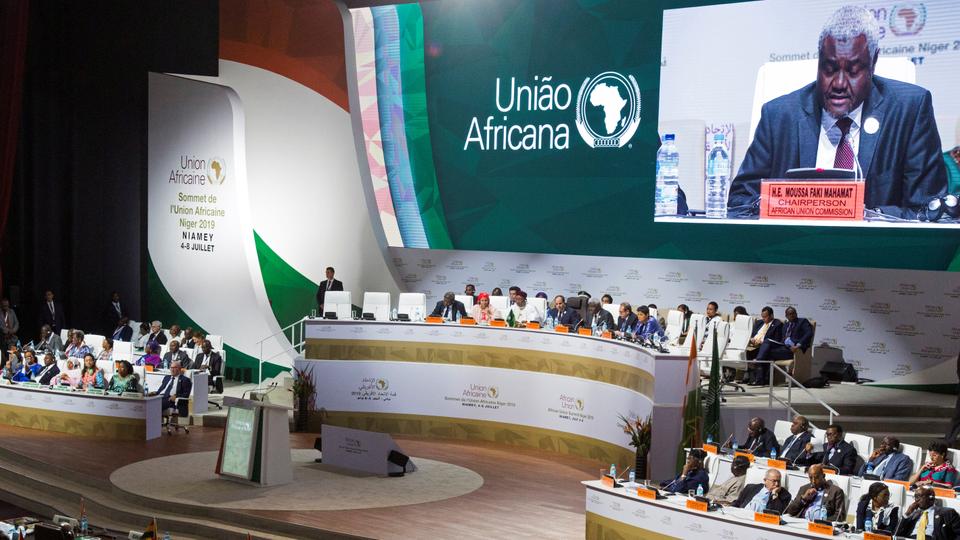 The East African | 4 May 2020
AfCFTA postpones launch date as focus turns to curbing virus
By ANTHONY KITIMO
The commencement date for the implementation of the $3.4 trillion Africa continental trade pact has been postponed from July 1 due to the Covid-19 pandemic.
The Phase I negotiation meetings to firm up rules and regulations had been scheduled to take place in South Africa this month. Phase II of the negotiations, covering investment, competition and intellectual property, were scheduled to be completed by January 2021.
Secretary-General of the Africa Continental Free Trade Area (AfCFTA) Wamkele Mene said all efforts have been shifted to saving lives and improving health systems on the continent, making it unrealistic for the economic bloc to move as scheduled.
"It is obviously not possible to commence trade as we had intended on July 1 under the current circumstances," Mr Mene said at a United Nations Conference on Trade and Development (Unctad) session on digital and trade policy in Africa this week.
Mr Mene did not say whether a new date had been decided on. He suggested that trade ministers would meet to discuss operationalisation of the economic bloc.
Stephen Karingi, director of trade at the UN Economic Commission for Africa, reiterated that there would be a delay to the start date.
However, in an interview with The EastAfrican, Emmanuel Bensah, a policy analyst with the Economic Community of the West African States and the African Union, said the July deadline is still feasible.
"The truth of the matter is that member states have yet to make a formal statement and arrive at a consensus pointing to a postponement," he said.
"Mr Mene's word cannot be final. Up until then, one must assume the official view from the AU is to continue unabated with the July 1, 2020, date."
Mr Bensah is also the deputy executive director of the AfCFTA Policy Network for Ghana and the diaspora.
He said that Covid-19 was putting pressure on African economies and that there was a need to strike a balance to prevent national priorities from clashing with those of the continent.
"AfCFTA is still on the minds of a lot of people, they want it to happen. It presents an opportunity for countries to do things on their own," he said.
He cited Nigeria, which has earmarked $63 million for loans to small businesses and households affected by the pandemic.
Another factor affecting implementation the agreement is loss of jobs, which the International Labour Organisation estimates at six million, the bulk of which will be in Africa.
ACCELERATING TRADE
"Global growth is expected to reduce by $3 trillion, but AfCFTA continues regional integration efforts by focusing on accelerating intra-African trade. During the pandemic, trade corridors play an important way forward to ensure transit and movement of goods, especially in relation to essential services, thus we should reduce barriers," Mr Mene said.
He added that with the expected economic fallout, Africa needs to accelerate intra-African trade to stimulate growth by reviewing its industrialisation strategies.
"We have seen what Senegal is doing in developing ventilators and this is a wake-up call. There is a need to minimise reliance on developed countries and reconfigure in favour of Africa. There is no reason why Kenya for example, cannot supply personal protective equipment to Africa, or we cannot have a generic drug industry based on the continent. To achieve this, we must specialise and reduce trade barriers," Mr Mene said.
At the session, Unctad secretary general Mukhisa Kituyi raised concerns over some African countries taking advantage of Covid-19 to undermine business protocols.
"We have seen a number of countries putting up measures to control movement of people especially at the borders, but they should do so according to set protocols to ensure free movement of goods. Unctad has issued an action plan to eliminate barriers to trade and transport and ensure the free flow of goods, food and essential supplies," Mr Kituyi said.
Unctad has developed a policy brief outlining a 10-point action plan to ensure the movement of goods during and after the pandemic. The measures cover maritime transport, Customs operations, transit, transparency and legal issues, as well as technology to enhance paperless trade processes.
The plans ask that people involved in the transport industry be given the status of critical personnel.
---