China 'interested' in Trans-Pacific trade deal but keen to gauge Japan's 'attitude' ahead of potential talks, ex-minister says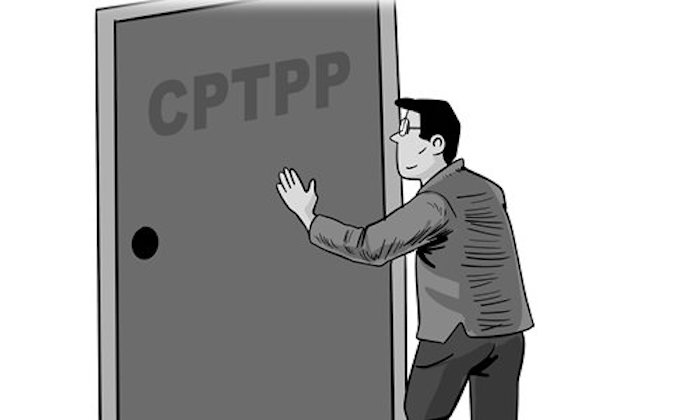 South China Morning Post | 23 June 2020
China 'interested' in Trans-Pacific trade deal but keen to gauge Japan's 'attitude' ahead of potential talks, ex-minister says
China is keen to first understand Japan's "attitude" before beginning formal negotiations to join the Comprehensive Progressive Trans-Pacific Partnership Agreement, according to former commerce minister Chen Deming.
Last month, Premier Li Keqiang became the first member of China's leadership to express Beijing's interest in joining the Comprehensive Progressive Trans-Pacific Partnership Agreement (CPTPP), which was signed in March 2018 by 11 nations including Australia, Japan and New Zealand.
"We are interested [in joining], but at the same time, we want to know more about the attitude of Japan," Chen told a forum organised by the Chinese media outlet Caixin on Monday.
"We need to know this before starting formal negotiations. When we are sure about this, we can come up with actual positions."
Chen added that Beijing is also keen to know if the United States will consider to "rejoin" the free trade pact after US President Donald Trump dropped out its predecessor, the Trans-Pacific Partnership Agreement (TPP), in early 2017.
The CPTPP is considered to be among the most modern multilateral trade deals, with requirements covering state-owned enterprises (SOEs), digital trade, intellectual property protection, labour, environmental standards, labour, and information freedom, many of which are seen hard for China to meet.
According to a statement on the website of the New Zealand government, a founding member of the deal, the CPTPP "aims to ensure a level playing field between state-owned or controlled companies engaged in commercial activities and their private competitors.
"It does this by addressing the potentially distortive effect that preferential treatment for state-owned enterprises can have on international trade and investment."
Chen added that Beijing has already started "studies" into the partnership, which would cover roughly one-third of the world economy if it included China.
The CPTPP was signed between Australia, Brunei, Canada, Chile, Japan, Malaysia, Mexico, New Zealand, Peru, Singapore, and Vietnam in March 2018.
It already covers a population of over 500 million people and 13.5 per cent of the global merchandise trade, becoming the largest trading bloc in the region and third largest worldwide.
Trump's decision to withdraw the US from the TPP in January 2017 was seen by observers as a strategic gift to Beijing.
Chen said that the US once excluded China from joining the early rounds of negotiations for the TPP after Beijing showed willingness to participate during his time as commerce minister from 2007 to 2013.
"The US knew we would protect the interests of developing countries," he said.
China is already in negotiations with 14 other nations from the Asia-Pacific region on the Regional Comprehensive Economic Partnership (RCEP).
The proposed deal involves the 10 Asean nations plus Japan, South Korea, Australia and New Zealand, although details have not yet been finalised despite being launched in November 2012. India also pulled out of the deal in November last year amid concerns its economy could be flooded with cheap Chinese goods and farmers could be hurt by agricultural imports from Australia and New Zealand.
---