China to deepen ties with ASEAN by upgrading free trade agreement
China Daily
China to deepen ties with ASEAN by upgrading free trade agreement
By Fan Feifeiand Zhou Mo
19 September 2015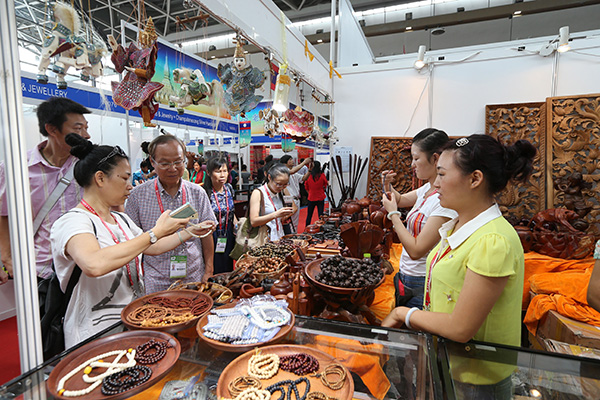 [Handicrafts from Laos attract participants at the 12th China-ASEAN Expo which opened in Nanning, capital of the Guangxi Zhuang autonomous region on Friday. Photo/China Daily]
China has said it will finish negotiations on upgrading the China-ASEAN Free Trade Area called CAFTA by the end of this year, said Vice-Premier Zhang Gaoli on Friday.
He said economic and trade cooperation is the base and guide of the construction of the Belt and Road Initiative.
"China and the Association of Southeast Asian Nations will further deepen economic and trade cooperation and mutually create an upgraded version of CAFTA," Zhang said at the opening ceremony of the 12th China-ASEAN Expo in Nanning, Guangxi Zhuang autonomous region.
He said the two sides will strengthen bilateral and multilateral cooperation in customs, inspection and quarantine operations, certification and accreditation, standards and metrology, statistical information and other areas, and reduce non-tariff barriers to enhance facilitation of trade and investment.
Zhang said the areas of cooperation between China and ASEAN have been expanding from traditional industries like agriculture, transportation to fields like finance, high-tech, green and maritime industries.
"These achievements fully demonstrate the vitality of cooperation between the two sides and herald the bright prospects of development of bilateral relations," Zhang said.
Indonesia, Malaysia, Singapore, Myanmar, the Philippines, Vietnam, Laos, Thailand, Brunei and Cambodia constitute ASEAN, which was founded in 1967.
China is ASEAN's largest trading partner while the regional bloc ranks as China's third-largest trading partner, the fourth-largest export market and the second-largest import source.
Bilateral trade between China and ASEAN increased by 8.3 percent year-on-year to $480 billion in 2014. Investment between the two sides has amounted to more than $130 billion.
"We will strive to reach the goal of expanding bilateral trade to $1 trillion by 2020 and making an additional investment of $100 billion to ASEAN over the years to 2020," he said.
China will also take advantage of its experience in equipment, technology, construction, capital and management to help ASEAN members promote industrialization and urbanization, Zhang said.
"China is willing to work with ASEAN ... in electricity, engineering, construction materials, telecommunications and other areas and co-build various industrial parks ... to enhance global competitiveness of industries in China and ASEAN," Zhang said.
Initiated in 2004, the CAEXPO serves as an important platform to promote bilateral trade and relationship between China and ASEAN.
---