EU reported to have called off Pacific negotiations on EPA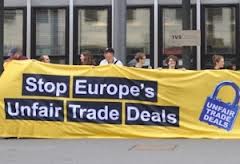 Radio New Zealand International | 17 October, 2013
EU reported to have called off Pacific negotiations on EPA
The Solomon Islands government says the European Union has suspended negotiations on the Economic Partnership Agreement between 14 Pacific Island Countries and the EU - 9 years after its EPA was launched in September, 2004.
The lead negotiator for the Pacific, Robert Sisilo, says EU officials told a Pacific Islands trade delegation in Brussels this week that negotiations were off because Papua New Guinea is not willing to participate.
PNG already has an interim EPA and reportedly does not want to become involved in the wider Pacific scheme which the EU wants.
The EU has said all 14 Pacific countries that receive its aid need to be part of a comprehensive EPA.
---