India to seal pact with Russia-led grouping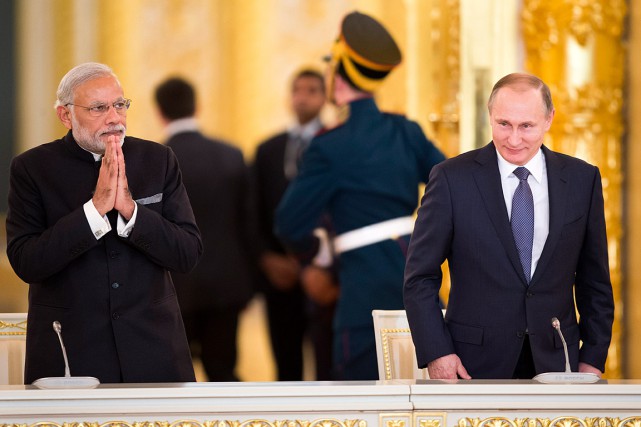 The Hindu | 29 April 2017
India to seal pact with Russia-led grouping
Free trade agreement to open up market with potential of up to $62 billion
India is set to formalise a free trade agreement with the Eurasian Economic Union, clearing the decks for negotiations on deepening trade relations with the five former Soviet republics.
The joint statement on the FTA is likely to be issued during Prime Minister Narendra Modi's meeting with Russian President Vladimir Putin at St. Petersburg on June 1, Sunil Kumar, joint secretary, Ministry of Commerce and Industry, said here on Friday. Addressing a stakeholder consultation, he said the report of the Joint Feasibility Study Group had been accepted by both sides and the formal negotiations would begin by July.
The Eurasian Economic Union comprises Russia, Belarus, Armenia, Kazakhstan and Kyrgyzstan. The FTA is expected to open up a huge market with a trade potential of $37 to 62 billion.
Trade between India and the five Eurasian countries stands at about $11 billion. "The FTA with the Eurasian countries was dictated by India's need to diversify into new markets. We have a targeted trade of $30 billion with the five countries by 2025 and $15 billion annual investment," Mr. Kumar said.
At the meeting, experts highlighted the need for better understanding of the challenges in the new market like non-tariff barriers and quality standards before the negotiations take place.
Mr. Kumar said the Eurasian market could open up new export opportunities for Kerala in medical tourism, IT and IT-enabled services, besides traditional sectors like spices, marine products, coir and rubber. He stressed the need for safeguards in the pact to protect the state's interests. Exporters and representatives of trade organisations called for steps to prevent dumping of goods and misuse of the rules of origin. They also highlighted the need for clarity on sanitary and phytosanitary measures, import licensing, quantitative restrictions and trade remedies.
---