'Internal interests first, EPA later'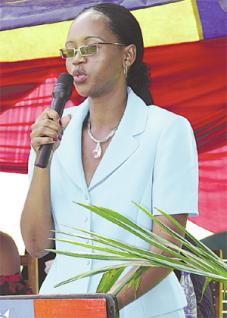 Swazi Observer | 19 January, 2010
'Internal interests first, EPA later'
By Teetee Zwane
IT is imperative for the Southern African Customs Union (SACU) to move towards aligning its internal activities faster before conclusion of a final Economic Partnership Agreement (EPA) with the European Union (EU), says Minister of Commerce, Trade and Industry Jabulile Mashwama.
Reports say the EU reckons EPA negotiations could be finalised by the end of the year, if there was "real political will" to settle the agreement. The EPA negotiating bloc comprising Swaziland, South Africa, Botswana, Lesotho, Namibia, Angola and Mozambique is expected to meet internally in mid-February before resuming official negotiations with the EU.
"The key thing as a group is that we want our issues addressed; to move things forward while taking care of and aligning our internal interests," said Mashwama in an interview yesterday.
"We need to push more in terms of our internal activities. We're saying let's move faster in the things we want to be done within SACU. We keep saying we want to do this and that, but there's lots of technical groundwork that needs to be covered."
In the Southern African Development Community (SADC) region, an interim agreement was signed by Botswana, Lesotho, Swaziland and Mozambique. South Africa did not sign the agreement and continues exporting to the EU under the Trade, Development and Cooperation Agreement (TDCA) it signed with the EU in 1999 while Namibia also did not sign and currently does not have a formal trade agreement with the EU.
A key issue in the region is the coherence of tariffs towards the European Commission among SACU members. It was envisioned that the EPA would result in a one trade regime between SACU and the EC, by rectifying the fact that there was the Cotonou Agreement for BLNS and the TDCA for South Africa.
In the negotiations towards a full EPA, outstanding issues remain on trade in services, investment provisions, government procurement, as well as provisions made for most favoured nations (MFNs). Trade in services under the controversial EPA deal with rules under which nationals of one country can sell their expertise in the services sector of another World Trade Organisation (WTO) member country.
"These are not issues that just concern South Africa and Namibia only, but they're issues for all of us," said Minister Mashwama. "We're not saying, wow! the interim EPA is great. That's why we're saying as we move forward with negotiations, we need to make sure that we don't jeopardise internal relations."
She said the countries comprising the regional EPA negotiating bloc agreed that the issues on the table were of concern to all. "We agreed that the EU should engage us as a bloc, so that we bring these concerns to the table together. The political will is definitely there and we had agreed that for the final EPA, we would address these issues as a bloc because they concern all of us."
---