Japan to cooperate for Thailand joining TPP free trade talks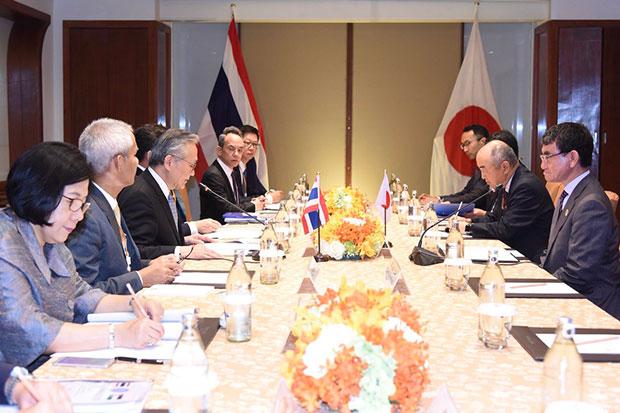 Bangkok Post | 27 June 2018
Japan to cooperate for Thailand joining TPP free trade talks
The foreign ministers of Japan and Thailand agreed on Wednesday to step up cooperation for Bangkok to join talks on participation in the Trans-Pacific Partnership (TPP) free trade framework.
Japanese Foreign Minister Taro Kono and his counterpart Don Pramudwinai also discussed deeper economic cooperation and regional issues such as North Korea's denuclearization, the Japanese Foreign Ministry said.
During the meeting, Kono was quoted as saying Japan welcomes Thailand's intention to join the 11-member TPP and is willing to cooperate with Bangkok.
Following the abrupt withdrawal of the United States, the remaining members signed a revised TPP in March, now called the Comprehensive and Progressive Agreement for Trans-Pacific Partnership.
At least six members of the pact need to ratify it before it can take effect. Japan's parliament is still deliberating relevant legislation necessary to complete its domestic procedures.
On North Korea, Kono explained Japan's policy to urge North Korea to abandon all weapons of mass destruction and missiles of all ranges in a "complete, verifiable and irreversible" way and sought Thailand's support for resolving the issue of Japanese nationals abducted by the North decades ago.
Kono is on the final leg of his Asian tour that has taken him to Bhutan and Indonesia.
---