Korea, Mongolia to seek free trade deal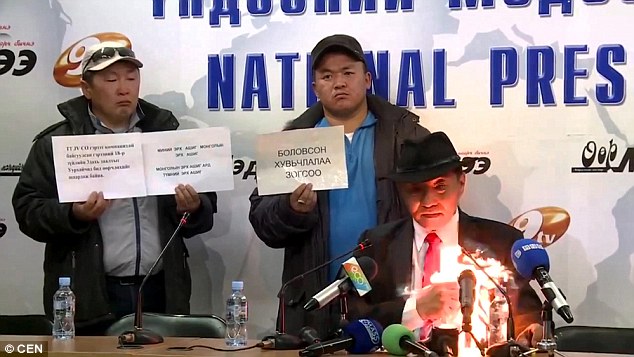 Korea Times | 17 July 2016
Korea, Mongolia to seek free trade deal
By Kim Hyo-jin
South Korea and Mongolia have agreed to seek a free trade pact to expand bilateral economic cooperation, according to Cheong Wa Dae, Sunday.
The agreement was reached during a summit between President Park Geun-hye and her Mongolian counterpart Tsakhiagiin Elbegdorj in Ulaanbaatar. Park is currently in the capital city for a two-day official visit after attending the Asia-Europe Meeting (ASEM) that ended Saturday.
To pursue a bilateral economic partnership agreement (EPA), the two nations agreed to initiate joint research on it as early as late this year. The EPA, similar to a free trade agreement, focuses more on industry and investment while enhancing free trade of commodities and services.
The presidential office expected the EPA to bolster mutual trade and investment, deepening the bilateral ties opened in 1990.
Through the envisioned EPA, the two sides hope to boost their trade volume that has declined in recent years. Their trade, which stood at $411 million in 2011, dipped to $292 million last year largely due to Mongolia's economic downturn.
"South Korean investors have been reluctant in reaching out to Mongolia due to uncertainty," said Kang Seog-hoon, the senior presidential secretary for economic affairs. "But now with an institutional framework, the deal will bring significant changes."
The South Korea-Monglia EPA will mark the latter's second EPA following one with Japan, signed in February 2015 after four years of research, but the presidential office expects the negotiation process between Seoul and Ulaanbaatar to take less time.
Mongolia has sought to diversify its economic relations, reaching out to countries including the U.S., South Korea, and Japan in a bid to change its heavy reliance on China and Russia.
During the summit, the two leaders also decided to help South Korean companies participate in 14 infrastructure projects and observed the signing of 20 memoranda of understanding (MOU) to support the joint efforts. The projects, estimated at about $4.49 billion, range from electricity and railroads to urban development.
Of the 20 MOUs signed, several will allow South Korean companies to participate in constructing power plants, energy transmission networks and producing renewable energy, the official said.
Both countries signed an MOU, pledging a joint effort in combating desertification by managing a 3,000-hectare plantation in the Gobi desert and creating an urban forest near Ulaanbaatar.
The heads of state also discussed ways to promote stability on the Korean Peninsula based on the strong stance toward denuclearizing North Korea.
"During the summit, I once again expressed my appreciation to President Elbegdorj for his support for South Korea's policy against Pyongyang's nuclear development, and for inter-Korean unification," she said during a joint press conference.
She also said the two sides will work closely together to better handle North Korean provocations, believed to be the biggest threat to regional stability.
---