Lessons for the Left from NAFTA Mark-II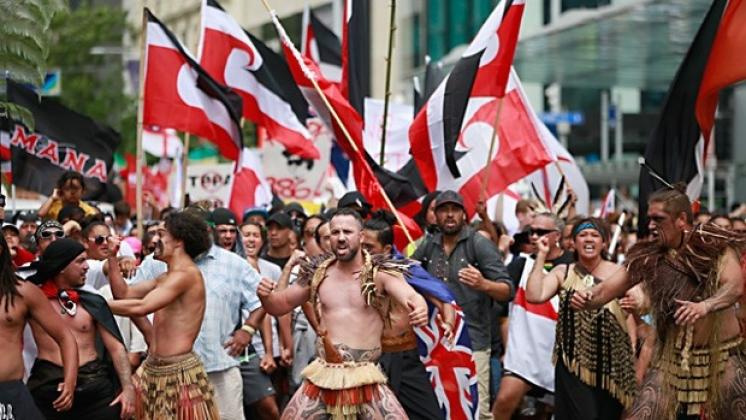 Daily Blog | 9 October 2018
Lessons for the Left from NAFTA Mark-II
By Prof Jane Kelsey
We underestimate Trump's people. We don't have to support their visceral racism and sexism and cynical manipulation of populist sentiment to recognise that something significant is happening. The rewrite of the North American Free Trade Agreement (NAFTA) between the US, Canada and Mexico released last week poses crucial challenges for the left that we need to understand if we are to shape a genuinely alternative, progressive new strategy for the future – the goal of our hui in Auckland on 19-20 October.
A key platform of Trump's Make American Great Again MAGA is to reverse the offshoring of jobs and capital by removing incentives for US firms to shift to cheap labour countries, meaning Mexico in the case of NAFTA. This has been a core demand of US unions and many Democrats. The revised NAFTA – unimaginatively called the US Mexico Canada Agreement – ups the amount of content of automobiles that must be produced in the three countries to get the benefits of lower tariffs and requires initially 30%, then 40% of that content to be produced by workers earning USD16 an hour. The labour chapter in theory imposes some enforceable labour standards.
A second festering sore in NAFTA was the right of foreign corporations to sue host governments known as investor-state dispute settlement or ISDS. That is gone between Canada and the US, with a 3-year transition. It is significantly wound back between the US and Mexico, except for oil and gas companies like ExxonMobil who secured special treatment for their contracts with Mexico.
The US agreed to an exception on indigenous rights that allows a government to adopt or keep a measure it deems necessary to fulfill its legal obligations to indigenous peoples. That is a more extensive version of the Treaty of Waitangi Exception and leaves out some (not all) of its problematic limitations, posing an interesting dilemma for a Labour government that claims the existing Treaty exception is as good as it can get.
At the same time, NAFTA-II imports some of the worst parts of the TPPA, strengthened to reflect the US's initial demands. Monopoly protections for new generation biologics medicines go beyond what Mexico and Canada agreed to in the original TPPA, in provisions that are now suspended. The rights of foreign firms to lobby and interfere in domestic policy making becomes enforceable. The electronic commerce chapter, designed by and for the Big Tech lobby of Google, Facebook, Amazon and others, is largely unchanged. The financial services chapter leaves Wall Street untamed. The environment chapter is even weaker than TPPA, and of course no reference to climate change.
Other novel provisions reflect the obsession across the political spectrum in the US with China. If Mexico or Canada begin negotiations with a 'non-market' country they have to tell the other two and show them draft texts during the negotiations, so they (the US) can decide whether to terminate the NAFTA-II arrangement altogether. In other words, Mexico or Canada can have a deal with China or the US, but not both. NAFTA-II also carries over the TPPA's State-owned Enterprise chapter that was designed to target China's SOEs at home, in the US and as competitors in third countries.
This is just a sample of what's there. No-one knows if this is a one-off to deliver on Trump's election promise or a new template for the US. The revised agreement with South Korea is more traditional, but it pre-dates NAFTA-II. Whichever, it poses a serious quandary for the left that extends far beyond the US and this agreement.
Whether this deal will really strengthen unionisation in Mexico or restore quality well-paying manufacturing jobs in the US is uncertain, and misses the point. NAFTA-II will play well in the states that Trump captured in 2016 and is much more important electorally than me-too and Kavanagh. Of course, other factors will affect the pending mid-term election and the 2020 presidential race. But Trump's new trade strategy will work for him.
There is enough in NAFTA-II for the unions, social movements and Democrats in Congress to reject it. But being anti-Trump is not enough. When I was in Washington several months ago talking to Democrats it was clear they have no alternative agenda. Obama's pro-TPPA stance divided them. Now Trump has stolen some of their platforms and many of their constituents. They desperately need to develop a new progressive alternative agenda and strategy, but seemed paralysed.
There are crucial lessons here for us. The official response, most recently from Jacinda Ardern in New York, is to defend the 'rules-based multilateral trading system' in the face of Trump's 'protectionism'. That is a false dichotomy and misrepresents the challenge Trump poses.
The choice is not between the unilateralism of a populist autocrat who is supported by a supine Congress, which is in turn captive of the world's most powerful corporations, on one hand, and the failed neoliberal model, brewed in the WTO and polished in the TPPA on the other. A few clip-on statements on gender and small and medium enterprises is not a progressive alternative.
We need to grasp the nettle and build momentum for something that is genuinely new and works for us all. Join us at the hui on What an Alternative and Progressive Trade Strategy Should Look Like online at itsourfuture.org.nz/hui-2018/ or Daily Blog, or at the Fale Pasifika on 19-20 October.
---