Liberal allies of Obama: 'Hell, no' to TPP trade deal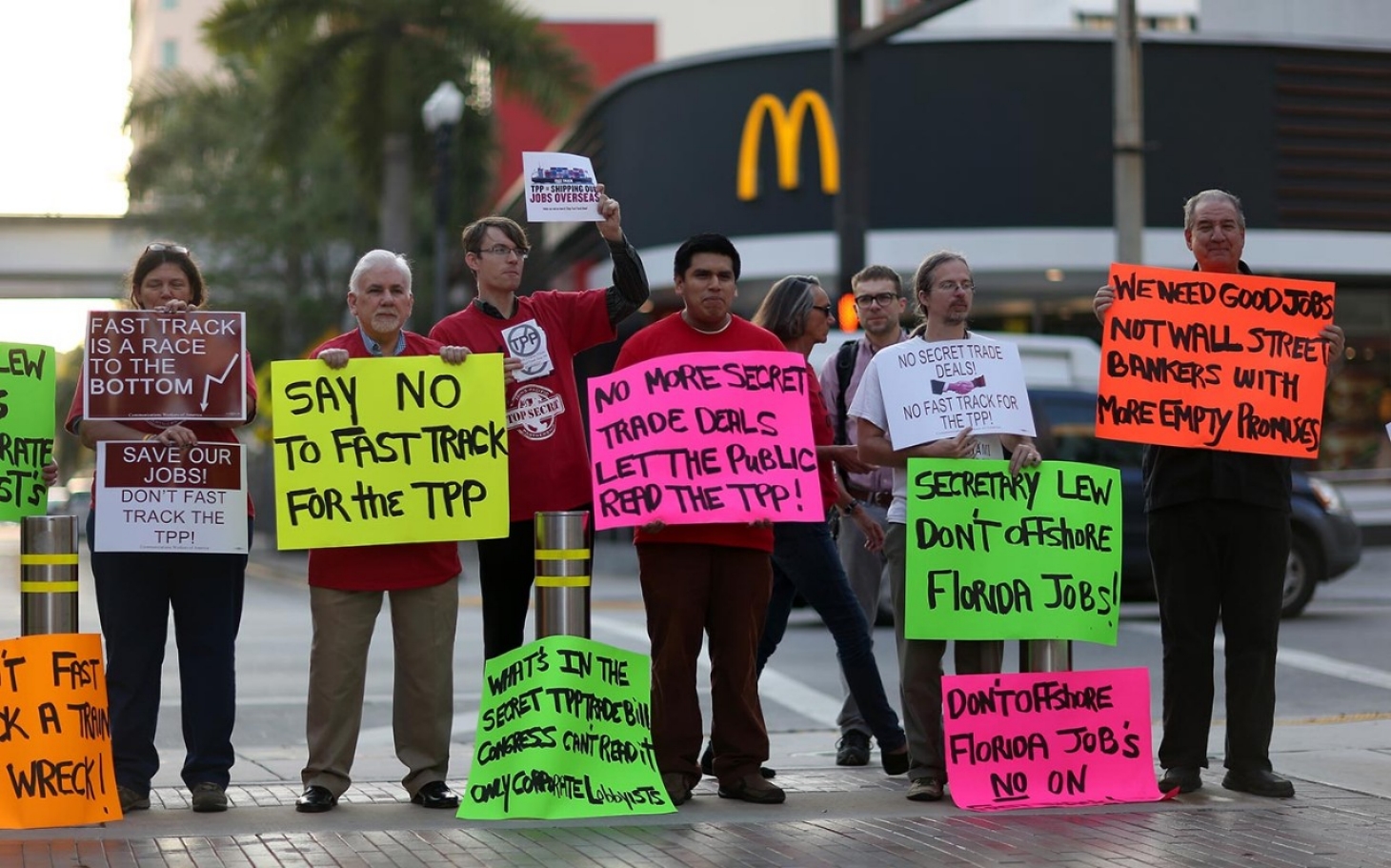 Al Jazeera | 15 April 2015
Liberal allies of Obama: 'Hell, no' to TPP trade deal
Labor leaders, environmental groups and lawmakers rally against fast-track authority for secretive trade pact
by Naureen Khan @naureenindc
WASHINGTON — Liberal lawmakers, labor leaders and environmental groups took their insurgency against the Trans-Pacific Partnership (TPP) trade deal to Congress on Wednesday, staging a protest against the secretive pact on the Capitol Hill lawn and spending the day lobbying lawmakers to derail fast-track authority for the deal.
Congress is debating this week whether to give Barack Obama's administration the power to submit the agreement to the House and Senate for a simple up-or-down vote — a special authority it has asked for — without giving members the chance to add amendments.
The sweeping trade deal, in the making since the early days of Obama's presidency, touches on a number of policy areas, setting international standards for everything from food safety to environmental regulations to intellectual property to corporate governance, and would cover 12 countries on the Pacific Rim. It has been negotiated entirely in secret, with the U.S. public barred from seeing a copy of a draft, aside from what has been leaked.
The pact has caused a public and relatively rare rift among Democrats, pitting traditional allies of the White House against the administration, which has made finalizing the deal a top priority of Obama's second-term economic agenda. Even more unusual, congressional Republican leaders have sided with the president.
"Do I look like a rubber stamp?" asked Rep. Donna Edwards, D-Md. "We're not going to accept a deal that sells away our jobs, that damages our food and that keeps our workers from succeeding in the 21st century. Hell, no."
Those opposed to the agreement railed against both the secrecy of the pact and the attempts to speed it through Congress, in addition to its content.
"We can't raise the minimum wage in this country to $10.10 because it takes 60 votes. We can't get a responsible way to insure the long-term unemployed because it takes 60 votes," said Tefere Gebre, the executive vice president of the AFL-CIO, the largest U.S. trade federation. "But they are saying with a simple vote, with a simple majority, they want to pass the largest trade agreement this country has ever seen or this world has ever seen? Are we going to settle for that?"
The AFL-CIO, one the deal's most vocal opponents and one of the Democrats' biggest political contributors, has been so adamant about defeating the TPP that it has frozen its political contributions to federal candidates to pressure more members to oppose the pact.
Sen. Al Franken, D-Minn., said he wasn't opposed to all trade agreements but that provisions should be vetted among lawmakers and in the public to make sure the deal was sound.
"When it's done right, trade can help American workers and communities, but it's got to be done right, and it can't just be about other countries being able to dump their imports in the United States," he said. "We will not stand for an agreement that doesn't have protections for the environment, that doesn't make sure that other countries aren't manipulating their currencies and that aren't enforceable, because then they're worthless."
Others were convinced that the pact would lead to job losses and depressed wages, as they believe previous trade agreements — particularly the North American Free Trade Agreement, among the U.S., Canada and Mexico — have done.
"Over the past 25 years, our country has signed trade deal after trade deal after trade deal, and each time, each and every time, we have been promised more jobs, increased wages, but the reality has been very different," said Rep. Rosa DeLauro, D-Conn. "What is insanity is doing the same thing over and over and over again and expecting a different result. We are headed to the madhouse with this agreement."
She added, "I did not come to Congress to give up my constitutional authority to any administration — Democratic or Republican."
Rep. Keith Ellison, D-Minn., said the TPP undermined deeply held principles of the Democratic Party. "You cannot talk about inequality and push a bad trade deal," he said. "You cannot talk about raising the wages while you offshore our jobs everywhere around the world, including Vietnam, where it is illegal to have a labor union and the minimum wage is $0.50."
For others, the frustration was personal. Danny Venters, a member of United Steelworkers, said he watched two paper mills close in his hometown of Augusta, Georgia, as the jobs migrated overseas.
"We're just tired of it," he said. "We're taking names of who's not voting the right way and taking our jobs, and we're not going to support them next time."
---