Norway-China FTA talks 'on track' as salmon market competition intensifies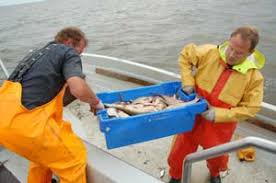 Under Current News - 02 August 2019
Norway-China FTA talks 'on track' as salmon market competition intensifies
By Louis Harkell
Negotiations towards a free trade agreement (FTA) between Norway and China are "developing positively", the Norwegian Seafood Council (NSC)'s China envoy, Victoria Braathen, told Undercurrent News, with 15 rounds of talks held so far.
The third round of talks this year was held in June in Oslo, Norway, while a fourth is scheduled for September in Wuhan, China. The "good frequency" of talks could put Norway on track to complete an FTA with China before the end of this year.
The progress marks a change in mood music between the two countries. After the two countries rekindled diplomatic ties in late 2016, following a freeze after the award of the Nobel Peace Prize to Chinese dissident Liu Xiaobo in 2010, trade 'normalization' took well over a year.
And three of Norway's largest salmon producers, SalMar, Leroy Seafood Group, and Nordlaks, still were awaiting approval to export to China up until May of this year, two-and-a-half years after the diplomatic impasse was ended.
On May 21 the three were re-approved to export Atlantic salmon produced at their respective factories (SalMar's plant at Froya in Trondelag; Leroy Aurora's plant in Nordkjosbotn; and from Nordlaks' plant at Stokmarknes) ending a year-long wait for Certification and Accreditation Administration of the People's Republic of China to add them to a list of approved suppliers.
"Having those processing facilities being able to access the China market is going to improve the supply significantly, that's the expectation," said Braathen. She notes that weekly exports are about double volumes recorded at the same point last year.
"Compared to perhaps other negotiations Norway is taking part in the frequency here is very good," said Braathen. Negotiators have grappled with everything from trade in goods and services, technical barriers, veterinary issues, and e-commerce, to intellectual property, public procurement, and environmental standards.
An FTA could put the rocket boosters on Norway's seafood exports to China.
China's annual salmon consumption is projected to increase to 250,000 metric tons by 2025, according to NSC, with Norway in line for up to 156,000t of that, "adequate supply permitting", said Braathen.
"I definitely think the salmon market in China today is very competitive and this is the feedback we get. At the same time this [Norwegian salmon] is a product in high demand and based on figures which show increasing exports it is competitive," she said.
"So an FTA would help. It is being followed very closely both from the Norwegian and from the Chinese industry side as well. It is high on the agenda," Braathen said.
Fast pace of change
She reiterated the "very exciting opportunities" presented by China, a phrase well worn but which nevertheless holds true. Since taking on her role last year Braathen said she has been struck by the pace of change.
"One of the things really being quite striking coming to China is how fast everything is moving. There's a real focus on using new technology, the importance of the consumer in marketing is being reinforced with things like 'new retail', and presentation of goods and fresh food products is now more interesting and varied. The focus is on providing various kinds of products in a very convenient way," said Braathen.
With consumers' growing use of online shopping and food deliveries, "you have to deliver at really short notice and it has to be very good quality", she noted.
Boding well for Norwegian seafood companies, nine out of ten Chinese consumers say product origin is important, according to a recent NSC consumer survey. Norway's carefully cultivated reputation for quality is a "privileged position" in the market to work from, she said.
In this regard, NSC's longstanding mission to China helps; NSC is in its 21st year in China and Braathen says building relations, aiding Norwegian companies and providing market updates is "really crucial".
Now, the task is for Norwegian companies to target specific consumer groups with specific needs, she reckons; "from children to people living by themselves who really want to have a healthy, good meal".
"So, I think seafood companies in this segment really need to focus on product development. It is another part that I think is going to be increasingly important in the China market in the time to come," she said.
In the first 30 weeks of this year, Norway exported 13,948t of whole, fresh Atlantic salmon worth NOK 971m ($109m) to China, up 87% in volume and 88% in value compared with the corresponding period last year, according to latest Norwegian figures.
Though not a strictly like-for-like comparison as last year some quantities of Norwegian salmon were still entering China via Vietnam, it puts Norway on track to export 20,000t to China this year.
According to Chinese figures, Chile was China's largest supplier of whole fresh Atlantic salmon in the first six months of 2019, supplying 13,725t, up 28% y-o-y (see table). Imports from the UK dropped 46% y-o-y to 2,092t.
---