Pacific Alliance to admit new associate members to expand trade reach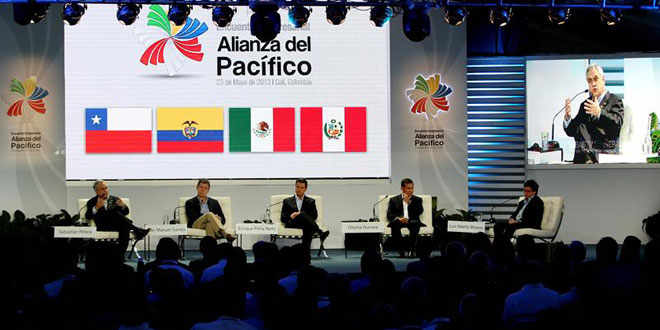 Reuters | 29 June 2017
Pacific Alliance to admit new associate members to expand trade reach
Four new countries will be admitted to the Pacific Alliance as associate members, the trade group said on Thursday, as it seeks to expand commerce with the Asia-Pacific region while the United States pushes for protectionist measures.
The alliance, which comprises Colombia, Chile, Mexico and Peru, will on Friday admit Singapore, Australia, New Zealand and Canada as associate members in a first step to broadening the reach of its trade flows and investments.
"I want to express our willingness to move toward greater integration through the creation of the associated state figure of the Pacific Alliance," Chilean President Michelle Bachelet said at the Pacific Alliance summit in the Colombian city of Cali.
"This category will be obtained by countries with which the Pacific Alliance as a bloc subscribe to ambitious and high-standard economic-trade agreements with the purpose of consolidating and expanding integration as an instrument of economic development," she said, adding that the block would fight against protectionism.
Alliance members are among the keenest proponents of free trade in the Americas and have backed Mexico after U.S. President Donald Trump threatened to scrap the North American Free Trade Agreement and tightened immigration controls.
"We are going to take important steps," Colombian President Juan Manuel Santos said, highlighting decisions made so far at the summit.
"We are going to register the creation of a common fund to finance infrastructure, we are going to open the alliance to associate members so that we can establish different relations with interested observers to affiliate in some way with the four countries that have the most dynamic economies in Latin America," he said.
The alliance said on Thursday it would explore whether to create a single passport for its four member nations in an effort to encourage tourism and trade across the world.
It also reached a tax agreement for pension funds operating in the bloc to stimulate investment in infrastructure projects. The maximum tax rate charged on pension fund investment returns will be 10 percent.
Also present at the summit are the presidents of Mexico, Enrique Pena Nieto, and Peru, Pedro Pablo Kuczynski.
The economies of the four member nations, if counted as a single country, would form the eighth-biggest economy in the world.
(Reporting by Luis Jaime Acosta; Writing by Helen Murphy; editing by Diane Craft)
---