'Pakistan-Indonesia PTA could be upgraded to FTA'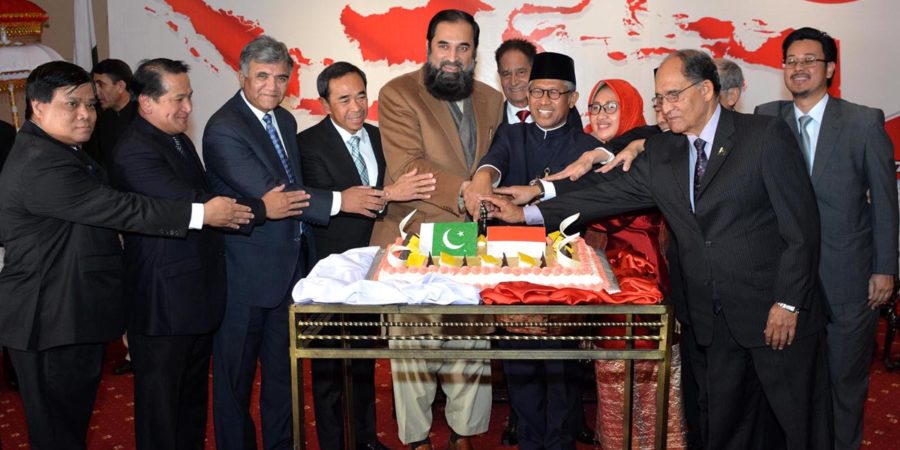 Express Tribune | 5 November 2018
'Pakistan-Indonesia PTA could be upgraded to FTA'
By Naveed Hussain
JAKARTA: Indonesia is expanding trade partnerships with different countries and economic blocs and a free trade agreement (FTA) with Pakistan is a part of the plans, said Indonesia Trade Minister Enggartiasto Lukita.
"We have a preferential trade agreement (PTA) between our two countries. Currently, we are in the process of reviewing the PTA. And it could be followed up with a free trade agreement (FTA)," Lukita said in an interview with The Express Tribune on the sidelines of the 33rd Trade Expo Indonesia (TEI) held between Oct 24 and 28 at Nusantara Hall of Indonesian Convention Exhibition.
This year's theme was 'Creating Products for Global Opportunities'. Indonesian President Joko Widodo, accompanied by Trade Minister Lukita, inaugurated the expo in Bumi Serpong Damai, a privately developed planned city in Tangerang Banten of the Greater Jakarta region.
Delegates, businessmen, entrepreneurs, diplomats and media persons from 22 countries, including Pakistan, attended the impressive annual tradeshow, which aimed to bring buyers and investors for direct deals with Indonesian providers of export products and services.
Jakarta and Islamabad signed PTA in 2012, which came into effect on September 1, 2013 after the ratification process in both countries. After three years of the implementation, review and negotiation process, it was finally agreed to amend it in January 2018, to create a more beneficial agreement for both countries.
"Indonesia would provide an additional 20 new tariff posts as early harvest to expand the scope of the agreement and reduce the two tariff posts from the previous agreement," Lukita said. "It is hoped that by opening up broader market access for Pakistani products, the Pakistan-Indonesia trade deficit would be controlled at a level acceptable to both countries," he added.
"We believe that long-lasting relationship must be rooted to the mutual benefit of the two countries. We must create a trading system that allows for fair trade. Trade is not a zero-sum game. Trade is about partnership. Trade is about trust. And trade is about growing together."
According to Lukita, the trade volume between Indonesia and Pakistan was $1.8 billion between January and September 2018 and it has been decreasing 1.2% year-on-year. Non-oil and gas exports were $1.7 billion, showing a decrease of 5.8%, while oil and gas exports were $83 million, which showed a significant increase corresponding to the same period the previous year.
Meanwhile, Indonesia's imports from Pakistan between January and September 2018 from non-oil and gas sector shot up to $467.4 million, registering an increase of 233% year-on-year. Similarly, Indonesia-Pakistan trade balance for Jan-Sept 2018 surpassed $1.3 billion, consisting of a non-oil and gas surplus of $1.2 billion and oil and gas amounting to $83.0 million.
"We are trying to persuade Indonesian businessmen to invest in Pakistan," the Indonesian minister said. "We would also like to invite Pakistani businessmen to visit Indonesia to see the possibilities, opportunities, their potential colleagues, and potential partners here. We are going to facilitate this process."
According to Lukita, Pakistan is the fourth export destination market for Indonesian palm oil products. Since Pakistan has a very strategic location; it becomes a strategic destination as well as a gateway to Indonesia's commodity market access to the Central Asia region and the surrounding region.
"The Middle East, South Asia and Central Asia regions represent 47.57% of the Indonesian palm oil market. Statistics shows that those countries in the regions can become captive markets for Indonesian palm oil products. The captive markets potentially can be utilised by using Pakistan as a trade and investment hub." The imagined routes in China's gigantic One Belt One Road (OBOR) initiative cover more than 60 countries and regions, currently accounting for some 30% of global GDP and more than 35% of the world's merchandise trade.
"The project is expected to be widespread throughout the South East Asia region. "The development of each economic corridor, from China into Central Asia, the Middle East, Europe, Southeast Asia and Africa will connect many remote locations to trading hubs, lowering entry barriers to supply chains," he remarked.
"This may have a positive effect on trade, cutting the logistical cost of imports and exports. Allowing the vital development of renewable power infrastructure will also promote sustainable economic development in these regions. Theoretically, with functioning transport links, infrastructure and affordable renewable energy supplies, local economies can grow, creating the ability to benefit from further investment opportunities."
However, he added that this project comes with risks, including underdeveloped credit markets, inconsistent regulatory regimes and poor infrastructure, which make the initiation of local belt and road initiative projects problematic.
"The development of OBOR project also caused mixed interpretations. While the Asian Development Bank acknowledged China's capacity to contribute to the future livelihood of 60% of the world's population in 2030, the ongoing projects of ports, railways, and roads also have caused reservations in the USA, Russia, and India, considering China's future capacity to produce a new kind of leadership.
On the other hand, India and Japan have come up with the Asia-Africa Growth Corridor (AAGC) to counter China's OBOR and at the same time expanding the geopolitical influence in Asia and Africa.
Asked about the economic growth of Indonesia, Lukita said his government has announced an economic growth target of 5.4% for 2018 – a little higher than 5.1% of 2017. "In order to achieve these targets and consider the global economic situation, which is still likely to slow down, we keep trying to boost exports and investment as two keys of Indonesia's economic growth."
He said amid the global uncertainty and the "US-China trade war" effect, Indonesia's non-oil and gas exports grew 9.2% year on year in September 2018 and reached $122.31 billion. "In accordance with our policy direction, the national export development strategy also focuses on penetrating non-traditional markets, while still maintaining traditional markets. The strategy carried out by the ministry of trade is through exhibition activities such as the Trade Expo Indonesia and trade mission along the year," he added.
---