Thai FTA in trouble: US could abandon talks after six rounds
Bahrain Tribune, January 15, 2006
Thai FTA in trouble: US could abandon talks after six rounds
BANGKOK/WASHINGTON (Reuters)
The United States could abandon free trade talks with Thailand unless Bangkok agrees to redouble efforts to reach an agreement in the next few months, a US trade negotiator said.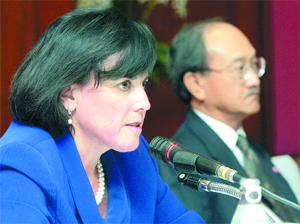 "We have to evaluate whether or not we think the will is there on both sides," Assistant US Trade Representative Barbara Weisel told US reporters by phone after a sixth round of talks in Thailand this week. "As you know, we're considering launching additional FTAs (free trade agreements) ... There's only so many of those that we want ongoing at the same time."
US and Thai negotiators made some progress in talks, but are still far from reaching an agreement after 18 months of on-and-off negotiations, Weisel said.
"We've told the Thais we'd like to conclude by spring," Weisel said. "Our position is if both sides decided they wanted to redouble their efforts, they could conclude the agreement in the time that's left."
The five-day negotiating session in the northern city of Chiang Mai was briefly disrupted on Tuesday by thousands of protesters who demanded a halt to talks they said would benefit a few business groups at the expense of the poor.
Trade negotiators moved to a new venue after protesters, many with HIV/AIDS, tried to break through police lines outside the luxury hotel where the talks were held.
Critics say US proposals would extend the patent protection for US pharmaceutical companies for longer than the 20 years allowed under World Trade Organisation rules, threatening Thailand's generic drug industry.
Weisel said in Bangkok that was not true. "The claims by some groups that the FTA will cause drug prices to rise by whole multiples of their current price is based on a lack of understanding of the US proposal, runs counter to the experiences of our other FTA partners, and amounts to scaremongering," she said.
Thai chief negotiator Nitya Pibulsonggram said the two sides had exchanged views on preliminary proposals on drug patents, financial and telecoms services. "Each party agreed to have more discussion of these issues at the next round of talks," he said.
But in her telephone call with US reporters, Weisel said it was uncertain the two sides would have another round. That's a decision US Trade Representative Rob Portman and others in the US government will have to make based on their assessment of the progress made this week, she said.
The Bush administration has never formally abandoned free trade talks, although some negotiations - such as one with South Africa - have gone on for years without conclusion.
The White House's mandate to negotiate trade agreements that cannot be changed by Congress expires in the middle of 2007 and chances of renewal are uncertain. Since free trade talks often take more than a year to complete, US trade officials are under pressure to focus efforts on the most promising negotiations.
Washington proposed this week in the Thai talks to waive tariffs on 74 per cent of 10,500 Thai industrial goods, ranging from home appliances to jewelry and estimated to be worth $12.8 billion, a statement by Thai negotiators said. In return, Thailand would waive tariffs on 71 per cent of US goods, estimated to be worth $5 billion.
---