The situation of protest about US beef import in S Korea is similar to that of June 1987
Live Korean media available at
http://www.newscham.net
http://www.ohmynews.com
http://www.radio21.tv
http://www.afreeca.com
Official committee's web site
http://www.antimadcow.org
---
The Hankyoreh | 31 May 2008
The situation of protest about U.S. beef import in S. Korea is similar to that of June, 1987
Farmers, professors and veterans, and citizens protest the government's announcement about U.S. beef import
The government's May 29 announcement of conditions for U.S. beef imports is expected to face mounting protests from citizens and netizens during the weekend. The evening of May 31 they are planning to hold rallies in major cities across the nation at places such as Seoul Plaza. Representatives of all walks of life are issuing statements against the government's announcement.
During a press conference on May 30, a civic organization declared that it will organize a major candlelight vigil at Seoul Plaza on the evening of May 31 as part of a citizens' campaign against the nation's resumption of the importation of U.S. beef. They stated, "We will encourage citizens to take part in the rallies through a campaign, sounding car horns as during the 1987 June civilian uprising.''
Meanwhile, in the evening on May 30, the 23rd candlelight rally was held in downtown Seoul and the Korean Confederation of Trade Unions staged demonstrations in front of 14 cold storages which have stocked U.S. beef. More than 20 farmers from the Korean Peasants League who attempted to march toward Cheong Wa Dae to call for the nullification of the announcement were taken into custody.
The professors' union issued a statement, criticizing the government's lack of philosophy and willingness to take responsibility for the state of affairs. ``We think that the current situation is similar to that of June, 1987, but the government appears not to recognize this." Members of a progressive veterans' association held a press conference in front of the building of the Ministry of National Defense, urging the ministry not to serve beef from cattle suspected to be tainted by mad cow disease to soldiers. In a press conference held in Gwanghwamun, downtown Seoul, more than 20 pastors of Protestant organizations denounced the government's announcement of conditions of beef imports and began a hunger strike that will continue indefinitely.
About 30,000 citizens across the nation took part in the candlelight vigils held shortly after the government's announcement on May 29. They censure the government by staging street marches till late at night.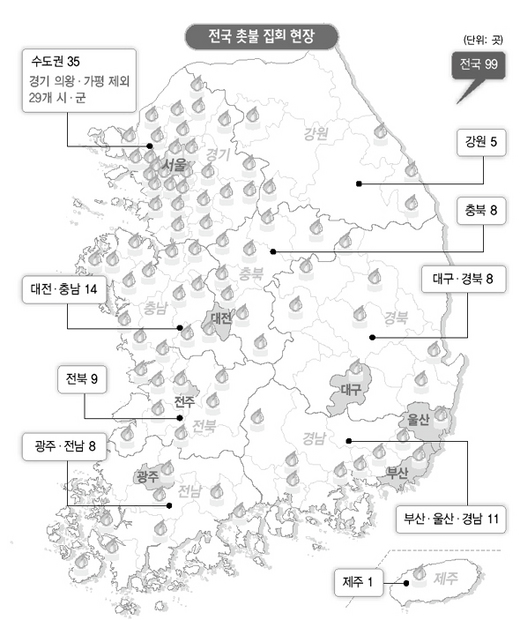 ---