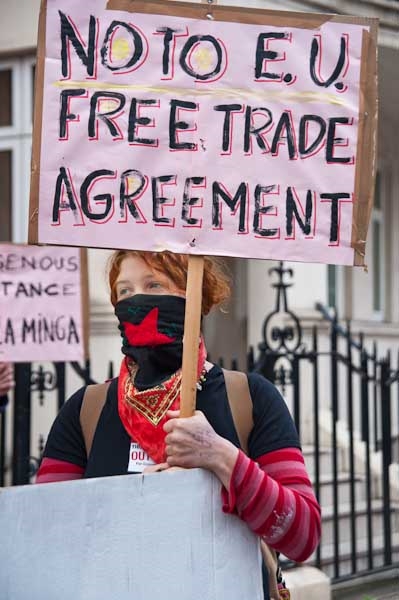 EU Politics News | 10 December 2009
EU urged to suspend trade talks with Colombia
Senior British MEP Richard Howitt has urged the EU to suspend free trade agreement talks with Colombia because of the country´s "profound" human rights "crisis."
Speaking at a news conference in parliament on Wednesday, the Socialist deputy said, there was "overwhelming" evidence that the Colombian authorities were complicit in the "torture, assassination and forced disappearance" of trade union activists
His comments came ahead of a hearing he is chairing in parliament on Wednesday on alleged human rights abuses in Columbia.
The EU is in the process of negotiating an FTA with Colombia although similar deals with the US, Canada and EFTA coungtries have all been delayed due to human rights concerns.
Howitt, his party´s spokesman on human rights issues, said the EU should suspend negotiations with Colombia and also urged parliament to reject any agreement "if and when it is presented to us."
He also wants the commission to launch an independent investigation into Colombia´s human rights situation.
"I know the commission and the incoming EU presidency have the objective of quickly concluding this FTA," he said.
"They say the FTA will have a human rights clause and if serious violations occur, trade can be suspended.
"I say serious violations take place today and it is the negotiations which should be suspended."
Speaking at the same event, Columbian human rights lawyer Yessika Hoyos, whose trade union leader father was murdered, said such crimes were committed on a "daily basis."
"All the time, those responsible enjoy immunity from prosecution."