Reuters | Tuesday December 15, 2009
US-NZ trade talks expected to start in March
Move comes as Doha round, other US trade deals languish

Kirk says pact need to boost US exports in region

USTR promises close consultation with Congress on talks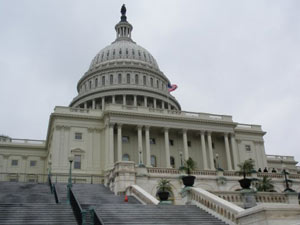 US trade officials have formally notified the US Congress of President Barack Obama's intention to negotiate a regional free trade deal with Vietnam, New Zealand, Singapore, Chile and three other countries in the Asia Pacific area.
The action came as the eight-year-old Doha round of world trade talks remains in doubt, and as Obama delays submitting trade deals with Colombia, Panama and South negotiated by his predecessor, George W Bush, to Congress for a vote because of concerns from his Democratic Party.
US Trade Representative Ron Representative Ron Kirk said the United States' participation in the Trans-Pacific Partnership (TPP) agreement was vital to reversing "a significant decline" in US export market share over the past decade in the fast-growing Asia Pacific region.
It also "provides an opportunity to develop a new model for US trade negotiations and a new regional approach that focuses more on jobs, enhances US competitiveness and ensures that the benefits of our trade agreements are shared by all Americans," Kirk said in a letter to congressional leaders.
Obama, in his first major trade initiative since taking office, announced last month in Tokyo that the United States would negotiate to join TPP, which already includes Chile, Singapore, New Zealand and Brunei Darussalam.
Australia, Peru and Vietnam also want to join the pact, which the United States hopes will eventually be expanded to additional countries in the Asia Pacific region, Kirk said.
The formal notification to Congress follows weeks of consultations with lawmakers and is consistent with procedures established under so-called "fast track" authority for the White House to negotiate trade pacts, even though that legislation expired in July 2007.
"The administration is committed to establishing a new partnership with Congress to develop US negotiating objectives for the the TPP agreement," Kirk said, in a nod to concern many Democrats had about Bush's trade deals.
The eight countries are expected to hold the first round of negotiations on the agreement in March. Many believe there is an informal goal of reaching a deal by the time Obama hosts Asia Pacific leaders at a regional summit in Honolulu in late 2011.
The United States already has bilateral free trade agreements with Australia, Singapore, Chile and Peru but now needs to stitch those into a regional trade pact that includes the three other countries.
New Zealand has long been interested in a free trade with the United States and it thought that goal was finally in reach last year when the Bush administration announced the US intention to join the TPP. However, that decision was put on hold after Obama took office in January.
A regional free trade deal that tears down trade barriers between the United States and Vietnam would begin a new chapter in relations between the two former wartime enemies.
Business groups believe Hanoi will face the toughest challenge of all the participants in concluding an agreement because of Vietnam's lower level of development and its government's heavy involvement in the economy.