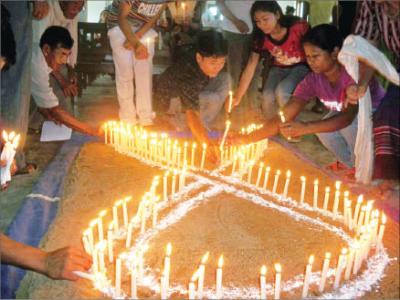 Let us unite to fight for our right to access to medicines!
Call for International Week of Action against EU-India FTA
4 October 2010 to 9 October 2010
In October 2010, India and European Union (EU) are scheduled to meet for an
informal round of negotiations before the India-EU Summit later in the
month. The two sides are meeting to finalise a free trade and investment
agreement, which they seek to conclude by the end of 2010.
Why are we concerned about this?
As we all know, India is considered to be the pharmacy of the developing
world. For example, generic competition from India is the backbone of
national AIDS programmes in Africa, Asia and Latin America. This started in
2000, when Indian pharmaceutical companies were able to bring down the
prices of first-line antiretrovirals for HIV and offer them at around USD
300 per patient per year as compared to USD 10,000 per patient per year
offered by the patent-holding pharmaceutical companies. Indian generic
companies have been able to provide antiretrovirals to treat HIV at about
1/4th the price of the patent-holding pharmaceutical companies. The
reduction in prices has facilitated treatment scale-up for persons living
with HIV across developing countries. Competitive generic production means
that patients in developing countries do not have to rely on patent-holding
pharmaceutical companies or their charitable dole-outs to realise their
right to health. This was possible because Indian patent law, until
recently, did not provide monopolistic patents on medicines. In the absence
of product patent protection for medicines, several pharmaceutical companies
could manufacture the same medicine.
Yet, this is going to change and not necessarily for the better.
Under the Agreement on Trade Related Aspects of Intellectual Property Rights
(TRIPS Agreement), India was required to change its patent law in 2005 to
provide product patents for medicines invented after 1 January 1995. In
2005, India utilised the flexibilities available under the TRIPS Agreement
and included several public health safeguards in its law (e.g. section 3(d)
which disallows patenting of new forms of known substances) when it
introduce product patent protection for medicines. Such public health
safeguards have been essential to prevent patenting of some crucial
antiretrovirals in India, including tenofovir.
Now, the EU is pushing India to adopt standards of intellectual property
protection and enforcement that go beyond India's present obligations under
international law. If the EU manages to pressure India to accepting its
demands, access to medicines for patients in India and across the developing
world will be under a real threat. The goal of universal access to medicines
for persons living with HIV and others will become even more difficult.
Already with the implementation of the TRIPS Agreement, Indian generic
companies cannot produce "new" medicines, invented after 1995, which have
been granted patents in India. This includes new antiretrovirals that will
soon be needed for patients failing second line antiretroviral treatment.
he proposed free trade agreement (FTA) being negotiated with the EU will
make it worse. The EU wants India and other developing countries to adopt
higher standards of intellectual property protection and enforcement. These
higher standards are being sought with a view to maximising the profits of
industry in the EU. Some of the demands are:
- Patent term extension, which will prolong the patents by a number of
years.
- Data exclusivity, which will make registration of generic versions of
medicines difficult.
- Enforcement provisions, which require India's Executive and Judiciary
to prioritise the enforcement of private patent rights and which will
effectively deter generic competition.
- Border measures, which will make export of medicines from India to
other developing countries difficult, if not impossible.
These and other such provisions will adversely affect the supply of generic
medicines from India. It is, therefore, imperative that India does not
agree to any TRIPS-plus provisions or compromise on the flexibilities
available under the TRIPS Agreement.
For this, we must, in one voice, call upon the Government of India to reject
the EU-India FTA, especially the provisions relating to intellectual
property rights and investment.
To this end, we are calling for an international week of joint action from
4 October 2010 to 9 October 2010. As in 2005, we request you to lend your
support in pointing out to the Government of India the importance of generic
production of medicines in India and the possible adverse consequences of
the EU-India FTA, especially the chapters on intellectual property
protection and investment, on the right to health.
Let us unite to fight against the thrust for global monopoly. Let us unite
to ensure that human life is valued over profit.
Protest Actions:
Protests, candlelight vigils, or whatever action is appropriate for the
country outside the Embassy / Consulate Office of Republic of India and call
upon the Government of India to say "NO" to:
– Intellectual property provisions in the proposed EU-India FTA
– Investment provisions that include "intellectual property rights"
within its scope
Protests in front of offices of the European Commission and embassies of
countries that a part of the European Union to stop its actions against
generic medicines in FTA negotiations and at other international fora.
Write / email / Fax:
Dr. Manmohan Singh
The Prime Minister's Office
South Block, Raisina Hill, New Delhi, India 110 011.
Fax: +91 11 23016857; +91 11 23019545
Email: [email protected]
Mr. Anand Sharma
Union Minister of Commerce and Industry
Udyog Bhawan, New Delhi, India 110 107.
Fax: +91 11 23063418
Email: [email protected]
Karel De Gucht
EC Trade Commissioner
Member of the European Commission
BE-1049 Brussels, Belgium.
Fax: (+32 02) 29 80899
Email: [email protected]
Graham Watson
Chairman of Delegation for Relations with India
Member of EU Parliament
Fax: +32-2-28.49626 or +33-3-88.1.79626
Email: [email protected]
If you want a sample of a letter to the Government of India, you may refer
to the sign-on letter initiated by Delhi Network of Positive People,
available at http://www.dnpplus.org/news.php
For further inquires, you may contact us at Lawyers Collective HIV/AIDS Unit
at [email protected]
In solidarity,
All India Drug Action Network (AIDAN)
Delhi Network of Positive People (DNP+)
Indian Network for People Living with HIV/AIDS (INP+)
Lawyers Collective HIV/AIDS Unit
Sankalp Rehabilitation Trust
Udaan Trust