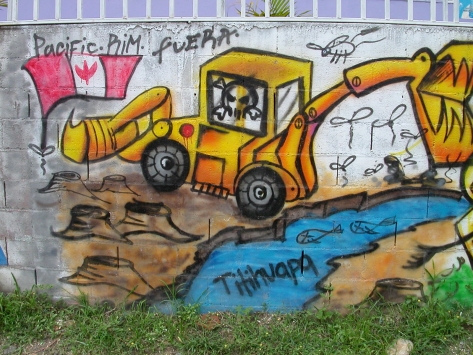 Reuters | Sat, Jun 2 2012
Canadian miner's complaint can proceed under El Salvador law
TORONTO (Reuters) — Canadian company Pacific Rim can move forward under El Salvador law with a case against that country's government for blocking a gold mining project, but cannot file suit under a regional trade agreement, a World Bank arbitration panel ruled.
The panel, known as the International Center for Settlement of Investment Disputes, or ICSID, found Pacific Rim "did not and does not have substantial activities in the USA" to argue its case under the Central American Free Trade Agreement with the United States, or CAFTA.
The case will now move forward under El Salvador's Investment Law, which prohibits expropriation without compensation, and will be overseen by ICSID, according to the decision seen by Reuters on Saturday.
Pacific Rim is seeking millions of dollars in damages from the Salvadoran government for failing to issue the permits needed to open the El Dorado gold project.
The company lost a key investment and took El Salvador to arbitration, arguing the country violated the trade pact.
The project would represent the first new precious metals mine in El Salvador in 70 years, but locals are worried about contamination from large-scale mining projects.
On Friday, both sides claimed victory after the decision.
El Salvador maintains Pacific Rim did not meet the proper environmental requirements, a charge the Canadian miner denies.
"It was clear that during these preliminary phases of arbitration, that Pacific Rim was incapable of refuting the evidence presented by El Salvador," the government's attorney general's office said in a statement. "It did not comply with the requirement to obtain environmental and mining permits."
Pacific Rim is forging ahead with its settlement fight.
"The fact that it will proceed under the Investment Law alone rather than under both sets of trade rules has no impact on the case," CEO Tom Shrake said in a company statement.
Since Canada is not part of CAFTA, Pacific Rim filed its complaint through a U.S. subsidiary.
"The holding company, the arbitrator has determined, did not have substantial enough activities in itself," Shrake told Reuters in an interview. "But also in the ruling they acknowledged that we are a U.S. entity with substantial U.S. business interests in our family of companies."
El Dorado, is northeast of El Salvador's capital, San Salvador, and has resources of 1.4 million gold equivalent ounces.
(Reporting by Julie Gordon in Toronto and Nelson Renteria in San Salvador; Editing by Peter Cooney)