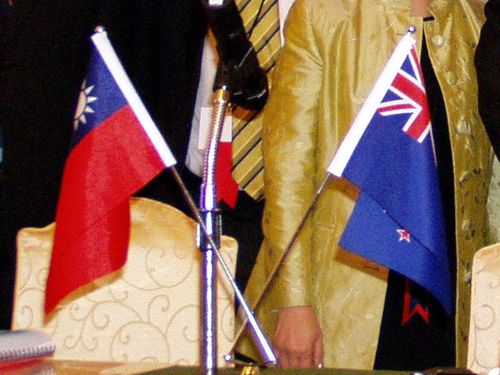 AP | July 10, 2013
New Zealand, Taiwan sign free trade deal
By NICK PERRY and PETER ENAV
WELLINGTON, New Zealand (AP) — New Zealand on Wednesday signed a free trade agreement with Taiwan in a deliberately low-key ceremony designed to demonstrate the South Pacific nation's fealty to its formal relations with mainland China.
The location of the signing ceremony at a university and the absence of senior officials from either side underscored New Zealand's interest in maintaining its increasingly important ties with Beijing. Five years ago, New Zealand became the first developed nation to sign a free trade deal with China, which has since become its largest export market.
In contrast to New Zealand, the deal was widely trumpeted in Taiwan, which is eager to break out of its China-imposed diplomatic isolation. It was Taiwan's first free trade agreement with a developed country and, from its point of view, a victory that was more political than economic. Television crews were on hand to beam the signing ceremony live to Taiwan.
Taiwan and China split amid civil war in 1949, and the Chinese government goes out of its way to pressure other countries to give short shrift to Taiwanese attempts to expand the democratic island's international profile.
But it also seeks to assist the Taiwanese government of President Ma Ying-jeou in solidifying the island's economy as a way of promoting the interests of Ma's China-friendly Nationalist Party among an increasingly disaffected Taiwanese electorate.
Like most Western nations, New Zealand doesn't recognize Taiwan as an independent country. To complete the deal, New Zealand used the wording and status from the World Trade Organization, which describes Taiwan as a ''separate customs territory.''
The New Zealander who signed the deal was Stephen Payton, director of the Commerce and Industry Office which comes under the banner of the Wellington Employers' Chamber of Commerce. That meant he wasn't technically a government official, although he had been seconded into the role from his government job.
''We have a no surprises relationship with China,'' Payton said. ''So yes, they are comfortable with what we are doing.''
Payton said the gradual removal of tariffs from the beef, fruit and other products it exports to Taiwan would result in savings of 40 million New Zealand dollars ($31 million) in the first year and NZ$75 million after 12 years when all the tariffs expired.
Taiwan will also win some small economic gains when New Zealand tariffs on machine tools, steel plates and bicycles are removed under the deal.
Elliott Charng, who signed the agreement for the Taipei Economic and Cultural Office in New Zealand, said the deal was a ''win-win.''
''I don't want to talk about the political issue here,'' Charng said in response to a question. ''I don't know anything about China's involvement.''
In Taipei, Taiwan's Foreign Minister David Lin shrugged off questions about the choice of venue, saying that Victoria University of Wellington was an ''ideal site'' for the ceremony because the university assisted in the feasibility study of the deal when talks began in 2011.
The agreement ''will enhance interests on both sides,'' Lin said. ''The deal was signed under the WTO framework, and it had nothing to do with mainland China.''
Taiwan has previously signed trade deals with its diplomatic allies, which are mostly small, impoverished countries in Africa and Latin America.
''It's a small step but has opened a window for Taiwan to raise its economic and diplomatic profiles globally,'' said Wu Fu-cheng, an economist with the Taiwan Institute for Economic Research.
Taiwan is also negotiating free trade deals with India and Singapore.
Enav reported from Taipei, Taiwan. Associated Press writer Annie Huang in Taipei contributed to this report.