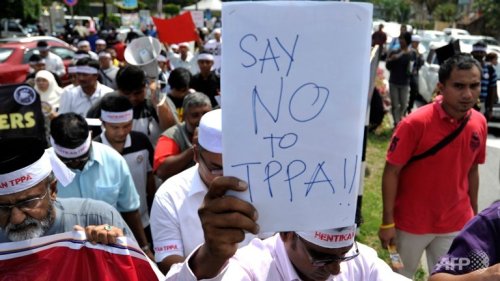 Malaysia Insider | September 24, 2013
No TPPA protests next month please, Putrajaya wants Obama to have peaceful visit
BY JENNIFER GOMEZ
The International Trade and Industry Minister has urged the public not to hold demonstrations against US President Barack Obama over the Trans-Pacific Partnership Agreement (TPPA) when he visits next month.
Datuk Seri Mustapa Mohamed said the TPPA talks have yet to be concluded and assured Malaysians that Putrajaya will not sign if it compromised the country's sovereignty or Bumiputera rights.
"The government will not compromise on these sensitive issues," Mustapa told parliament today.
Putrajaya has been under pressure on this issue, with former prime minister Tun Dr Mahathir Mohamad and the Malay Economic Action Council leading the charge against the trade pact.
Among their concerns are that the TPPA will affect small businesses and traders as well as Bumiputera business interests.
On October 11, Obama will attend the Kuala Lumpur 4th Global Entrepreneurship Summit, a US initiative to reach out to the Muslim world.
It will be the first visit by a US president to Malaysia in 47 years, after the late President Lyndon B. Johnson's visit in October 1966.
Mustapa said Malaysia might lose out if it does not sign the TPPA, saying the pact will give the country access to a larger market.
The minister, who is also the Jeli Member of Parliament, told the Parliament that in the past, Malaysia had signed 12 free-trade agreements with Japan, China, New Zealand, Australia and Asean countries, with beneficial returns.
He said Malaysia's attraction among foreign investors will increase under the TPPA, while adding that controversies surrounding the pact are due to non-trade elements, such as intellectual property rights.
"But we will continue to negotiate TPPA on our terms, and I have informed the TPPA discussions that we were concerned about the impact on government-owned companies, investor-state dispute, government procurement and intellectual property rights.
"We are also doing cost-benefit analyses on the impact to the Bumiputera community and small-medium industries, and if we find it does not benefit the country, we will not be pressured to sign the agreement," he said.
Last Tuesday, the pro-opposition Solidariti Anak Muda Malaysia (SAMM) burnt a replica of Obama and the American flag at a small protest in Taman Melati, Wangsa Maju.
The group vowed to mobilise a larger crowd to "welcome" Obama next month, saying many more will congregate at the KLCC.
SAMM propaganda director Edy Noor Reduan said their actions were an "important warning" to highlight the public's rejection of the TPPA.
Edy also said that the campaign, including an online campaign under the social media hashtags #BantahObama #TolakTPPA, is being held across several states. – September 24, 2013.