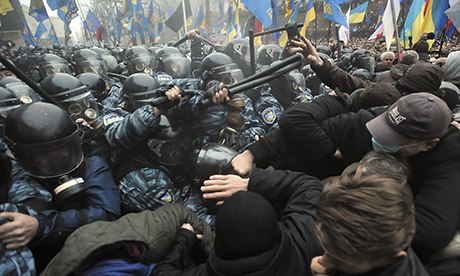 Bloomberg - Nov 28, 2013
Ukraine sees positive result at EU summit on free-trade pact
By Daryna Krasnolutska & Bryan Bradley
Ukraine's First Deputy Prime Minister Serhiy Arbuzov said he sees a "positive result" at a European Union summit to discuss a landmark trade pact for the former Soviet republic.
The Ukrainian government last week halted plans to sign an association agreement and free-trade treaty at the two-day summit in the Lithuanian capital of Vilnius, which begins today. The 28-nation EU reiterated that the deal is still on the table.
"We're ready to find a solution that will balance our economic and social situation," Arbuzov said at a conference in Vilnius today. "How the solution will develop, we'll see tomorrow. We continue working and we continue looking for a solution. I'm sure we'll find it."
Ukraine's snub of the trade deal halted a process that would have cemented the nation of 45 million in the EU's orbit. That sparked the biggest street protests since the Orange Revolution nine years ago, in which an opposition group including Yulia Tymoshenko overturned a presidential election initially won by current leader Viktor Yanukovych.
Tymoshenko, who's serving a seven-year prison sentence for abuse of office, has urged EU leaders to drop her release as a pre-requisite for the agreement.
'Continue Working'
Lithuanian Prime Minister Algirdas Butkevicius, whose nation holds the EU's rotating presidency through year-end, met with Arbuzov today and said he's confident the association accord will proceed, though he doesn't know when.
"They continue working and will sign the agreement," he told reporters. "I just can't say if it will happen tomorrow."
Yanukovych has said the EU's offer doesn't provide sufficient protection from possible trade sanctions from Russia, which disrupted exports from its neighbor in August in protest at the proposed agreement. He said yesterday that he still aims to complete the deal before his term ends in 2015.
While Russian President Vladimir Putin has said he doesn't oppose the deal, his suggestion of three-way talks with Ukraine and the EU has been rejected by the bloc.
The EU and Russia each buy about a quarter of exports from Ukraine, the second-most populous ex-Soviet republic. Ukraine shouldn't have to chose between the two as countries "must be able to decide freely" about their international relations, German Chancellor Angela Merkel told reporters in Berlin yesterday. Merkel said she'll probably meet with Yanukovych at the summit.
'Either-Or Mentality'
"We have to get over this either-or mentality," Merkel said. "The Cold War is over."
More than 100,000 people marched through Kiev on Nov. 24. to protest against the government. The demonstrations continued yesterday.
Forty-five percent of Ukrainians think that the country should sign the EU agreement, according to a survey by GfK Ukraine last month, while 14 percent would prefer the Russia-led Customs Union and 15 percent said the country should stay away from both.
EU leaders are scheduled to arrive in Vilnius this afternoon to begin the summit with an informal working dinner. Most EU leaders, including Merkel and British Prime Minister David Cameron, are set to attend.
EU Ready
"The European Union will be ready to resume the preparations for signature of the association agreement as soon as Ukraine is ready to resume on its part," EU enlargement chief Stefan Fule said today.
Five-year credit-default swaps, contracts insuring Ukrainian debt against non-payment, declined to 926 basis points on Nov. 25, the lowest on a closing basis since Oct. 24. They were unchanged today at 987 points, the third-highest in the world after Argentina and Venezuela, according to data compiled by Bloomberg. The yield on government bonds due 2023 was little changed at 9.846 percent.
Even after Ukraine decided to halt preparations to sign the EU pact, talks have continued, with the bloc's offer still open, according to Lithuanian Foreign Minister Linas Linkevicius.
"Government representatives told us, even yesterday, that there's no pause, intense negotiations are continuing," he told Ziniu Radio today. "So every day we get conflicting news. We're used to that."
To contact the reporters on this story: Daryna Krasnolutska in Vilnius at dkrasnolutsk@bloomberg.net; Milda Seputyte in Vilnius at mseputyte@bloomberg.net
To contact the editor responsible for this story: Balazs Penz at bpenz@bloomberg.net