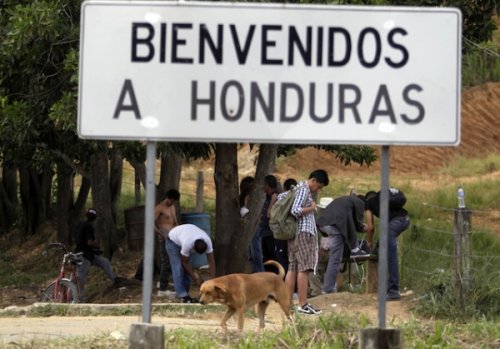 Latin Post | 21 October 2014
Honduras near 'failed state' status due to free trade agreement, says labor and latino leaders
By Michael Oleaga (m.oleaga@latinpost.com)
Representatives from national Latino and labor organizations described the situation one of the Central American countries as "unbearable," and natives continue to migrate north into Mexico and the United States.
Communication Workers of America (CWA) President Larry Cohen, American Federation of Labor and Congress of Industrial Organizations (AFL-CIO) Executive Vice President Tefere Gebre and National Day Laborer Organizing Network (NDLON) Executive Director Pablo Alvarado were among a group of individuals visiting Honduras Oct. 12-15 to meet with Honduras on how the Dominican Republic-Central America-United States Free Trade Agreement (CAFTA-DR) benefited the country. Alvarado, Cohen and Gebre agreed Honduras has not seen improvements from the agreement, which was implemented 10 years ago.
The CAFTA-DR agreement has been regarded as the first free trade agreement between the U.S. and the smaller developing economies of Costa Rica, Dominican Republic, El Salvador, Guatemala, Honduras and Nicaragua. According to the Office of the United States Trade Representative (USTR), the agreement would create "new economic opportunities by eliminating tariffs, opening markets, reducing barriers to services, and promoting transparency."
Cohen acknowledged the representatives of the national labor and Latino organization met with Honduras' elected officials, workers and union leaders and even deportees deported from Mexico and the U.S. Alvarado noted the Mexican government has become "more aggressive" on deportation policy than the U.S. with two to three buses per day arriving to Honduras filled with women and children. Cohen said CAFTA-DR has had a negative impact on Honduran farmers and resulted in displaced workers, "total break down of public services" and "forced migration" of youth, while the U.S. spends billions to deport "hundreds" back to the Central American country in shackles.
According to the CWA president, Hondurans, ranging from peasant farmer, factory worker, unemployed, searching for a job, unionist, elected official or an immigration leader, the "total breakdown of this trade regime" is evident and the lack of any progress that cannot be measured.
"No one had anything good to say about CAFTA," Cohen said.
"We need to care about workers no matter what papers you have," Gebre said and added that many Hondurans are not earning standing income wages because of the government admitting they don't have the "capacity" to provide minimum wage.
Alvarado, a native from neighboring country El Salvador, said the situation in Honduras is "unbearable" as 20,000 businesses were shut down during the last year because of violence and economic issues. The NDLON executive director said the U.S. can help fix the immigration crisis by ensuring any action is "aligned with a different approach to foreign policy ... in reality with Central America."
For Alvarado, President Barack Obama can help issue the first step in fixing the immigration crisis by acting "immediately" as Honduras is "close" to becoming a "failed state." According to the Global Policy Forum, a failed state "can no longer perform basic functions such as education, security or governance, usually due to fractious violence or extreme poverty."
As Latin Post reported, the 2014 U.S. fiscal year has seen the rate of unaccompanied undocumented children from Honduras enter the U.S. increase to 18,244 encounters from 2013's 6,747.