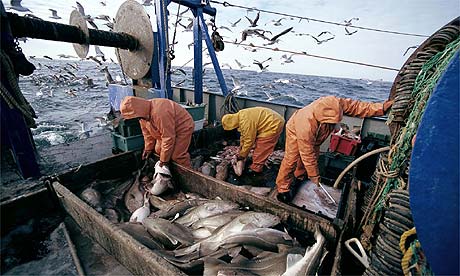 CBC News | May 26, 2015
Processing requirements 'off the table' in CETA spat with Ottawa: Darin King
Ottawa's failure to follow through on $400-million fisheries fund to blame
A dispute between the Newfoundland and Labrador government and Ottawa surrounding the Canadian European Union Comprehensive Trade Agreement (CETA) was reignited Tuesday, with the province saying it will not relinquish authority over minimum fish processing requirements, or MPRs.
Darin King, Minister of Business, Tourism, Culture and Rural Development, said the decision is related to the federal government's refusal to live up to an agreement reached in 2013 on the creation of a $400-million fisheries renewal fund, with Ottawa paying 70 per cent.
"Given there's been no movement on the fishery fund ... we're not giving up our jurisdictional authority for minimum processing requirements. We've simply said that's off the table for Newfoundland and Labrador," King told reporters Tuesday.
King said he also notified the European Union's ambassador to Canada of the province's decision.
The fund was envisioned as a concession for the removal of jurisdictional authority on MPRs for seafood products destined for the EU market.
The dispute has frayed relations between the two governments, with Premier Paul Davis declaring in December he "cannot trust" Prime Minister Stephen Harper.
Davis has said Harper reneged on the agreement, with the federal government saying it will only provide compensation for "demonstrated losses" as a result of the removal of MPRs, and that it was never intended as a "slush fund."
Provincial officials have argued that was never part of the original deal.
King said the province still supports the trade deal, but will not give up MPRs.
This could create complications for the federal government as the trade deal gets closer to being ratified, because the elimination of MPRs is an element of the deal.
That's Ottawa's problem, said King.
"All we're saying is it's within our jurisdiction. We were prepared to find a way forward with a deal. We thought we had a deal. We don't have a deal. So, thank-you very much. We'll keep our jurisdictional authority to manage the fishery."
Not intended to be a blank cheque
Meanwhile, Rob Moore, the regional minister for Newfoundland and Labrador and the Atlantic Canada Opportunities Agency, said the federal government remains committed to working out the details of the MPR fund with the province.
"As we have indicated to the government of Newfoundland and Labrador, we remain open to a transition initiative that includes support for displaced workers, research and development, and innovation," Moore said in a statement Tuesday afternoon.
"However, the fund was always intended to compensate hard-working Newfoundlanders and Labradorians for actual losses arising out of the removal of MPRs. It was never intended to be a blank cheque that could be used to disadvantage the other Atlantic provinces."