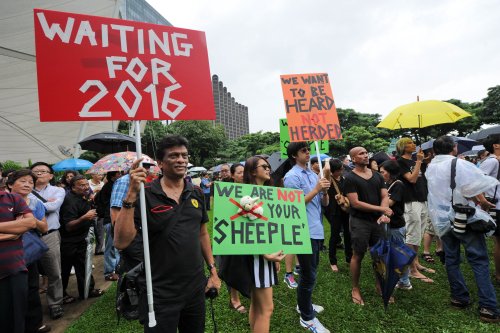 Straits Times | 18 May 2016
Singapore and Eurasian Economic Commission sign MOU to expand economic cooperation
by Lim Yan Liang
MOSCOW - The first step towards a free trade agreement (FTA) between Singapore and the countries of the Eurasian Economic Union (EAEU) was taken on Wednesday (May 18), with the signing of a Memorandum of Understanding to deepen ties.
Prime Minister Lee Hsien Loong, who witnessed the signing at the office of the Eurasian Economic Commission (EEC), noted that an FTA will intensify economic cooperation between them and urged both sides to work closely to start the negotiations.
"Our two economies will benefit greatly from a free trade agreement between the Eurasian Economic Union and Singapore, because such an FTA will reduce the obstacles to trade and establish a conducive strategic environment for business and for bilateral cooperation," said Mr Lee.
"So I hope both sides will work closely together to study the possibilities and the opportunities, and hopefully to work towards launching negotiations for the FTA," he added.
The memorandum of understanding was signed by Minister of State for Trade and Industry Koh Poh Koon and EEC Minister for Development of Integration and Macroeconomics Tatyana Valovaya.
The MOU will provide a platform for regular interactions and facilitate closer collaboration between the EEC and Singapore in areas such as customs administration, trade in services and investments, and information technology.
The need to negotiate for an FTA between Singapore and the EAEU was mooted last November at a meeting of top officials from Singapore and Russia.
The EEC is the regulatory body of the EAEU, which groups Russia and former Soviet states Armenia, Belarus, Kazakhstan and Kyrgyzstan in a common market of 180 million people, with a total gross domestic product of US$4.2 trillion (S$5.7 trillion).
Before the signing, Mr Lee met EEC chairman Tigran Sargsyan, a former prime minister of Armenia, and discussed the untapped potential between Singapore and the Eurasian Union. Mr Sargsyan thanked Singapore for its interest in economic cooperation with the EAEU since its formation in 2014, and said the MOU with Singapore represents "a new age of relations".
A working group will now be set up to look at how ties can be developed further, he added.
Mr Lee said: "Now we have the MOU, it will provide a platform for us to have regular interactions between the commission and Singapore, so that we can identify new areas of collaboration and so that our officials and business communities can become more familiar with each other.
"I am sure this more intense interaction will enable us to identify new trade and investment opportunities in the Eurasian Union markets that Singapore companies can take advantage of, and conversely, we will also identify opportunities for companies in the Eurasian Union to use Singapore to invest in, and also to be a gateway into Asia," he added.
Trade between Singapore and Russia grew at a compounded annual growth rate of 13.11 per cent between 2011 and 2015, rising from S$4.68 billion to S$7.66 billion.
But it is still not at a level commensurate with Russia's size and place in the world, Mr Lee had said earlier in an interview with Russian news agency Tass.
Mr Lee said on Wednesday that the MOU signing represents "a positive and concrete step towards deepening engagement between Singapore and the EEC".