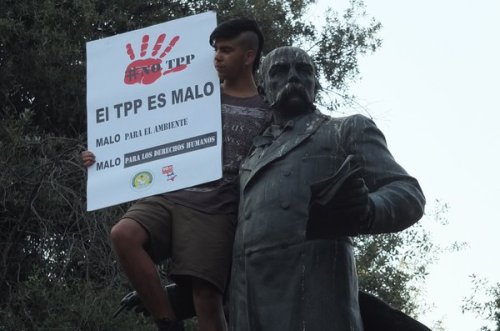 Public Citizen | 9 March 2017
Open letter to trade ministers meeting in Chile, 14-15 March 2017

It is clear that the withdrawal of the United States means that the Trans-Pacific Partnership (TPP) agreement as previously negotiated is dead. As representatives of many millions of people in a wide range of unions, civil society groups and social movements, we believe that the TPP text, negotiated in secret, served the interests of large corporations at the expense of governments' rights to regulate in the public interest and of our fundamental rights as citizens. It gave special additional rights to global corporations that were enforceable in discredited offshore tribunals, despite widespread public opposition.
The TPP did not deliver on promises of secure livelihoods, good jobs and prosperity. It would have restricted governments' ability to regulate to ensure affordable medicines, financial stability, workers' rights, protection of the environment and climate change mitigation, and to protect indigenous rights and other fundamental human rights. We are better off without the TPP.
For these reasons, we believe it is not acceptable for TPP rules to be used as a model for future trade negotiations whether bilateral, regional or multilateral, including the World Trade Organisation. We urge you to accept that this model has failed, and to engage with us and others in a more open and democratic process to develop alternative approaches that genuinely serve the interests of our peoples, our nations and the planet.
Click here to see the list of signatories (over 200)