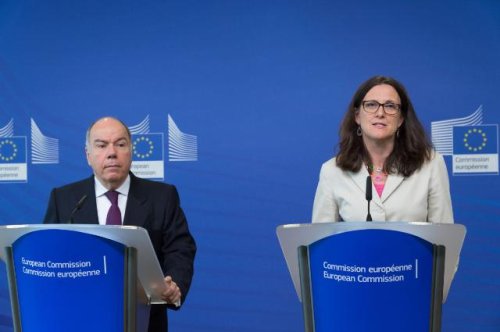 European Commission | 24 October 2017
Report from the XXIXth round of negotiations of the trade part of the association agreement between the European Union and Mercosur
Brasilia, 2-6 October 2017
The XXIXth negotiation round of the trade Part of the EU-Mercosur Association Agreement took place from 2 to 6 October 2017 in Brasilia.
The talks were led on the EU side by EU Chief Negotiator, Director Sandra Gallina, DG TRADE. The Mercosur delegation was led by Brazil's Chief Negotiator, Ambassador Ronaldo Costa Filho.
Negotiation working groups covered the following areas: (1) Trade in Goods; (2) Rules of Origin; (3) the Antifraud Clause; (4) Technical Barriers to Trade; (5) Sanitary and Phytosanitary Measures; (6) Trade Defence Instruments; (7) Subsidies; (8) State-Owned Enterprises; (9) Dispute Settlement; (10) Services and Establishment; (11) Government Procurement; (12) Intellectual Property (including Geographical Indications); (13) Trade and Sustainable Development; (14) SMEs; and (15) Institutional Affairs. Text on disciplines remained the main focus of the discussions. As regards market access, the EU presented its offer on beef and ethanol.
Below is a summary of the discussions. Both sides agreed to hold the next round in Brasilia, from 6 to 10 November 2017.
Read more (pdf)