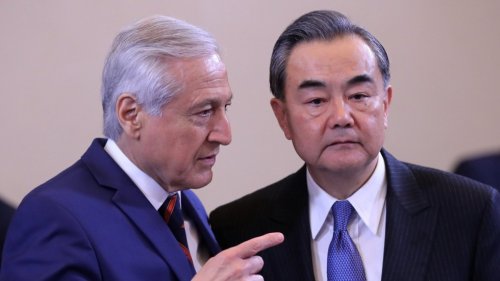 Xinhua | 22 January 2018
Chinese FM meets Chile's president-elect on bilateral ties
China is willing to further deepen the comprehensive strategic partnership with Chile, and enhance cooperation with Latin America within the framework of the Belt and Road Initiative, Chinese Foreign Minister Wang Yi said Sunday in Chile's capital, Santiago.
During a meeting with Chile's president-elect Sebastian Pinera, Wang spoke highly of Pinera's stand on China — taking relations with China as a top priority of the country's foreign policy, believing that the China-Chile comprehensive strategic partnership will achieve a higher level.
On bilateral relations, Wang said, the two sides need to further enhance political mutual trust and continue mutual support on core interests concerned issues.
Taking the signing of a deal on upgrading bilateral free trade agreement as an opportunity, Wang said, the two countries need to increase economic and trade exchanges and expand cooperation in investment, innovation and other fields.
On regional level, Wang said both sides should promote joint building of the Belt and Road, and back the China-CELAC (the Community of Latin American and Caribbean States) Forum to yield new achievements.
On international affairs, the two sides need to adhere to multilateralism and jointly address climate change and other global challenges, the Chinese foreign minister said.
China will fully support Chile in hosting the Asia-Pacific Economic Cooperation meetings in 2019, and support free trade and oppose protectionism to promote the building of the Free Trade Area of the Asia-Pacific, Wang said.
Pinera said he has closely followed the 19th National Congress of the Communist Party of China, and is optimistic about the prospect of China's development.
Chile will firmly pursue the one-China policy, actively support the Belt and Road Initiative, the president-elect said, saying his country is willing to increase communication and coordination in international and regional hot spots, and continuously enhance the partnership between the two countries.