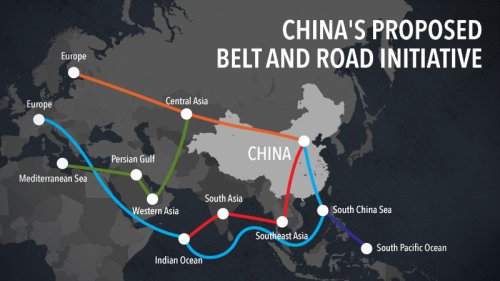 CNBC | 19 February 2018
A four-nation alliance may be rising to counter China's Belt and Road
by Yen Nee Lee
Four countries — the US, Japan, India and Australia — could join forces to set up an alternative to China's Belt and Road Initiative in an attempt to counter Beijing's growing influence, the Australian Financial Review reported Sunday.
The plan was on the agenda of Australian Prime Minister Malcolm Turnbull's meeting with President Donald Trump later this week, according to the report, which cited one unnamed senior US official.
The source, however, added that the plan was still "nascent" and "won't be ripe enough" to be announced when the two leaders meet in the US.
China's multibillion-dollar Belt and Road Initiative aims to connect Asia, Europe, the Middle East and Africa with a vast logistics and transport network, using roads, ports, railway tracks, pipelines, airports, transnational electric grids and even fiber optic lines.
The project is widely seen as Beijing's push to increase global clout. The plan at one point included 65 countries, which together accounted for one-third of global GDP and 60 percent of the world's population, or 4.5 billion people, according to Oxford Economics.
Talks about an alternative infrastructure scheme have been brewing since last year. Secretary of State Rex Tillerson pitched for greater cooperation between the US and India to counter China's strategy during his official visit to New Delhi in October 2017, according to the Hindustan Times.
The US was also pushing to revive talks with Japan, India and Australia to deepen security cooperation and coordinate alternatives to China's Belt and Road project, Reuters reported, adding that the quartet held talks in Manila last November on the sidelines of the ASEAN and the East Asia summits.