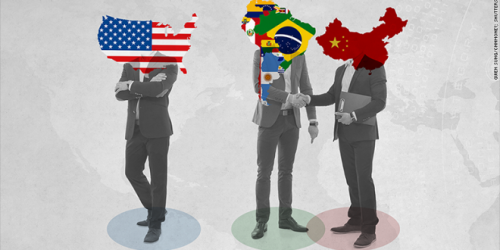 ANI | 2 March 2018
China expanding its military, political influence in Latin America
A recent report taken out by a Washington D.C.-based think tank has predicted that Communist China is seeking to expand its military and political influence across Latin America.
The report prepared by the Center for a Secure Free Society (SFS) think-tank appears in the breitbart.com web site.
Titled, "The Dragon and the Condor: Beyond China's Economic Influence in the Americas," the report has warned that Beijing is likely to increase its power through military and political means.
"It is also clear that China's strategic objectives and interests are well beyond the economic realm, and that they raise considerable national security concerns for the U.S. as well as for other nations in the hemisphere," the SFS report claims.
The assessment of the SFS is that there has been a "steady increase in Chinese intelligence activities in Latin America," noting that the countries in the region cannot combat Beijing's capabilities.
SFS notes that Beijing's intelligence activities in the Americas likely seek to "collect information on U.S. military technology and doctrine; conduct cyber warfare; and carryout corporate espionage."
"China's presence in Latin America will continue to grow not only in the economic sphere, but also in political, security, and cultural aspects. China's intelligence operations in Latin America will be carried out gradually and in stages, especially until Beijing can develop trusted human intelligence networks to support its activity," the report suggests.
Read also: China willing to negotiate signing of free trade agreements with Uruguay
In its most recent assessment of its operations, focused on Latin American countries below Mexico and most of the Caribbean, the U.S. Southern Command (SOUTHCOM) concedes that China's activities in the Americas pose a threat to the United States.
SOUTHCOM specifically noted Beijing's decision to expand its ambitious multi-trillion-dollar "One Belt, One Road" (OBOR) initiative to Latin America as a menace to U.S. interests.
The U.S. military has cautioned that the strategic challenge posed by China in this region requires a new approach to get effective results.
The national security think-tank analysis also highlights China's OBOR or the Belt and Road Initiative (BRI), as a threat to the United States.
The BRI raises serious inquiries about China's long-term interests and objectives abroad.
The U.S. Pacific Command (USPACOM), which covers American military activity in China, New Zealand, and all the countries in between, recently cautioned lawmakers the Chinese armed forces might soon challenge the United States' military dominance in the Indo-Pacific region "across almost all domains."