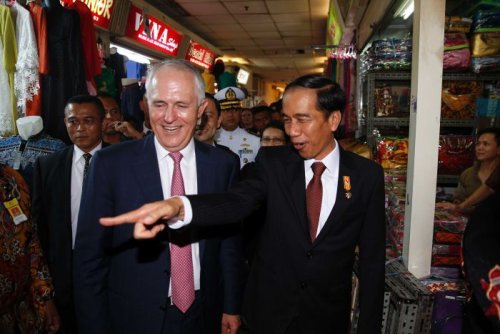 SBS | 7 March 2018
Indonesia-Aust trade pact talks push out
(AAP) Canberra and Jakarta are unlikely to finalise a free trade deal ahead of the Indonesian president's visit to Australia next week for a leaders summit.
Prime Minister Malcolm Turnbull had hoped to sign an agreement with Joko Widodo on the sidelines of a special Australia and Association of South East Asian Nations leaders summit in Sydney late next week.
Indonesia and Australia failed to meet a deadline late last year on sealing the trade pact.
Trade officials from both countries have been holding talks on Tuesday and Wednesday but no time frame is clear yet on when the deal with be resolved.
AAP understands 95 per cent of the deal has been finalised.
The remaining sticking points relate to services and include whether Australian universities can set up campuses in Indonesia.
Discussions are also continuing around Indonesian workers such as nurses being granted visas to fill skills shortages in Australia.
Trade Minister Steve Ciobo said negotiations were fruitful and there was a lot of good will on both sides.
"It's not about trying to do it in a record amount of time, or a matter of weeks, it's about getting a good quality deal," Mr Ciobo told AAP.
The two countries have previously announced, under the free trade pact, Australian exporters will have sugar tariffs in Indonesia reduced to five per cent.
In return, Canberra has agreed to eliminate tariffs on pesticides and herbicides for Indonesian exporters.
Australian cattle producers will also benefit from changes to Indonesian regulations.
Import permits will change from four months to one year and weight and age limits will also increase.
Trade ties between the two countries have historically been underdone.
Indonesia is Australia's 13th largest trade partner, with two-way trade worth $16.4 billion in 2016-17.
There are expectations southeast Asia's biggest economy could climb to the top seven in global rankings by 2030, up from its existing spot of 16.