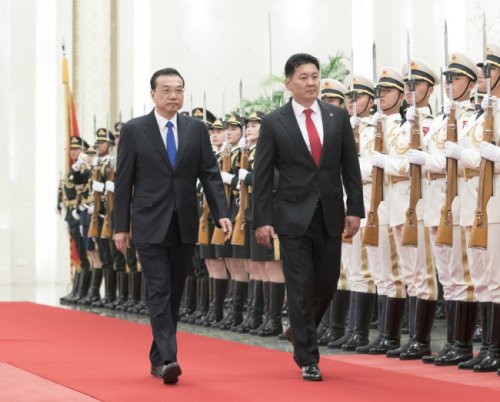 Business Standard | 10 April 2018
China, Mongolia to explore free trade agreement - Xinhua
Shangai: China and Mongolia should begin research into a free trade agreement and speed up the launch of a cross-border cooperation zone in a bid to make use of the two countries complimentary advantages, Chinese Premier Li Keqiang said Monday.
According to the official Xinhua news agency, Li told Mongolian Prime Minister Ukhnaa Khurelsukh in Beijing the two sides should work together more in industry, agriculture and animal husbandry, energy and minerals, transportation, pollution control and infrastructure construction.
Landlocked Mongolia sells the bulk of its exports to China, its southern neighbour, and it has also been trying to make greater use of China's transport network as well as its commodities exchanges in order to gain access to foreign markets.
Mongolia aims to become a "transit corridor" to facilitate trade, as well as oil and gas deliveries, between Russia and China, and has sought funding for transportation projects from the China-backed Asian Infrastructure Investment Bank.
But some nationalist politicians in Mongolia remain suspicious of Beijing's intentions, and have expressed concern that China's growing economic might could further enhance its political dominance in the region.