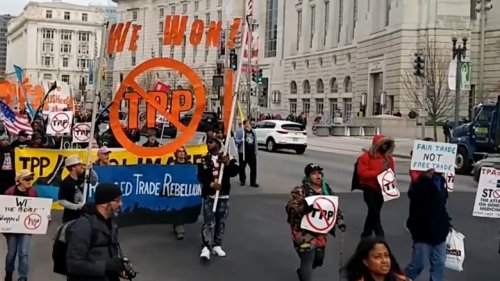 Scoop World | 14 May 2018
Reject Trump's threat to affordable medicines through TPP
"US President Donald Trump's policy to end "freeloading" and force trading partners to increase prices they pay for US pharmaceutical exports is a direct threat to Australia's policy of ensuring affordable medicines through our Pharmaceutical Benefit Scheme," AFTINET Convener Dr Patricia Ranald said today.
"This policy results from the US pharmaceutical companies absurd and unproven argument that if other governments abandon their affordable medicine policies and agree to higher prices, the companies would then lower their prices in the US. Both Canada and New Zealand have strongly rejected this push. There has so far been no reported response from the Turnbull government. We call on the government to reject this policy," said Dr Ranald.
"The US policy is a direct attack on Australia's Pharmaceutical Benefit Scheme, which keeps medicine prices down by regulating for lower wholesale prices to the pharmaceutical companies and then subsidising the retail price to consumers. Trump's strategy for higher prices could be achieved through US bargaining to re-join the Trans-Pacific Partnership, or through bilateral talks based on the 2005 Australia-US Free Trade Agreement. The government should make clear that this is unacceptable," said Dr Ranald.
"The clauses in the TPP-11 relating to higher prices for biologic medicines were only suspended after Trump pulled the US out of the TPP in 2017, and could be revived if the US re-joins the deal. None of the other 11 TPP countries wanted these clauses, but they agreed to them in the original TPP-12 deal in exchange for some increased access to US markets for their products."
"The suspended biologics clauses in the TPP should be deleted and the Australian government should firmly reject the absurd argument that Australia and all other countries should change our regulation which ensures access to affordable medicines. The Trump policy shows how trade agreements are being used to make global rules that favour corporations over people's needs," said Dr Ranald.
"The US is the only comparable industrialised country which does not have a comprehensive system for regulating medicine prices, and it is trying to use trade agreements to remove our regulation. Rather than using trade agreements to attack other systems, the US should introduce its own regulation."
Quotes from President Trump
"It's time to end the global freeloading once and for all. I have directed US Trade Representative Bob Lighthizer to make fixing this injustice a top priority with every trading partner," Trump said during a speech at the White House Rose Garden on May 11.
"We have great power over the trading partners; you're seeing that already. America will not be cheated any longer, and especially will not be cheated by foreign countries," the president added.