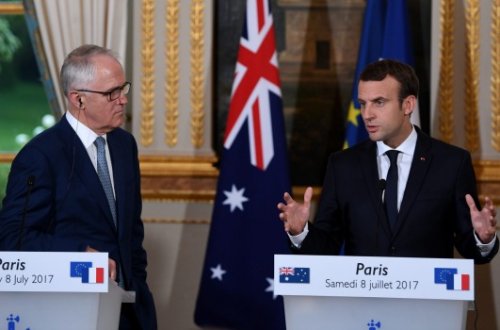 SBS | 22 May 2018
EU to approve free-trade negotiations with Australia and NZ
By Brett Mason
After eight months of closed-door diplomacy, SBS News can reveal European Union leaders will tonight formally approve free-trade agreement (FTA) negotiations between Australia and New Zealand, paving the way for a multi-billion dollar deal before the United Kingdom leaves the EU in March.
Plans for "fast-tracked" FTA negotiations, revealed by SBS News, were announced by European Commission President Jean-Claude Juncker during his annual State of the Union address to the European Parliament in Strasbourg in September.
President Juncker expressed a desire to complete negotiations and secure a deal before the next European elections, which will take place in May, two months after Brexit.
While the European Commission had expected the European Council to greenlight talks before the end of last year, SBS News understands talks stalled at the leaders' level after France, Ireland and Belgium raised concerns about "the reciprocity" of any agreement.
French President Emmanuel Macron had urged his fellow European Union leaders not to rush free trade agreement negotiations with Australia and New Zealand, fearing a "free-trade stampede" would "wipe out" his country's "struggling" agricultural sector.
Concerns were raised by other nations, because President Juncker's fast-tracked plan would mean any final deal would not need the final approval of the European Union's 38 separate national and regional parliaments.
Instead, the European Commission would be given the authority to agree the final terms of any deal.
The President – and his Commissioners – were said to be "incensed" after a multi-billion dollar free trade agreement with Canada was almost scuttled by regional parliamentarians in Belgium.
Earlier this month the French President visited Australia, where he was asked by a French journalist if it "was fair play" to delay FTA negotiations with Australia, given it had been awarded a $50 billion submarine deal – the largest defence procurement contract in Australian history.
"First of all, it is about protecting the French interests", Mr Macron said on the lawn of Kirribilli House.
"We're not wasting any time, we're not lagging behind.
"France will be in favour of a negotiation mandate in the coming weeks, as soon as it is submitted to the (European) Council. They will have some very concrete discussions on agricultural issues.
"This is fully reassuring. This is also our vision of global trade, which has to be free and fair.
"I can say that both our countries do not consider trade war or tensions to be something in our interests or in the interests of our values so we very much want to comply with the spirit of multilateralism and free trade, to which we contributed to designing."
Later today in Brussels the Foreign Affairs Council, chaired by Emil Karanikolov, the Bulgarian Minister of Economy, will formally adopt a decision "authorising the opening of negotiations on free trade agreements with Australia and New Zealand" and agree "the respective negotiating directions for the Commission".
Trade Minister Steve Ciobo told SBS News he "looked forward to seeing the results out of Brussels" and that "hopefully, we'll be able to commence FTA negotiations very soon".
"There's a high level of commitment from both the Australian Government and the European Union to try and commence these negotiations," he said.
"Importantly, we've completed the scoping study and in the next 24 or 48 hours we should see the results in terms of the European Union hopefully securing a mandate to commence FTA negotiations."
The European Union is Australia's second-largest trading partner, worth close to $100 billion, and officials have spent decades trying to increase our access to the single market.
The sectors likely to benefit most from a free trade agreement include agriculture, motor equipment, machinery, chemical, processed foods and services.
"I'm a firm believer in keeping the horse in front of the cart, so you'll understand I'm not going to get into a sector by sector analysis, what I will say is that we want to drive more trade and more investment with Europe," Mr Ciobo said.
"We know that we can do that through a high quality, comprehensive free-trade agreement between the two of us and that's what I'm focused on doing."
Shadow Trade Minister Jason Clare welcomed news of the impending talks.
"It's great news for Australia", Mr Clare told SBS News.
"We were hoping it was going to start last year, but if it's starting now, that's great."
The Opposition has pledged a bipartisan approach to negotiations, should there be a federal election or change of government before the negotiations were completed.
"Both the Liberal Party and the Labor Party support free trade and support fair trade," Mr Clare said.
"We want to export as many of our goods and services as possible to the rest of the world because that's what creates jobs here in Australia."