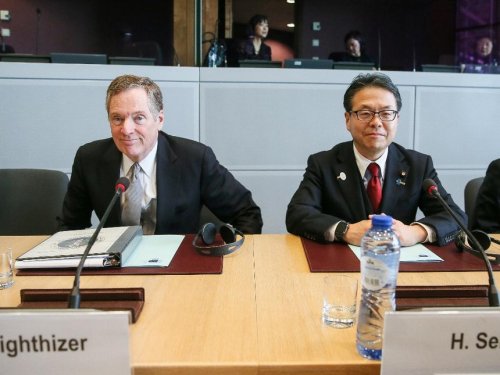 The Mainichi | 27 July 2018
USTR Lighthizer eyes 1st trade talks with Japan by late Aug.
WASHINGTON — U.S. Trade Representative Robert Lighthizer said Thursday he plans to hold a first round of trade talks with Toshimitsu Motegi, Japan's economic and fiscal policy minister, "in the next 30 days."
In a Senate hearing, Lighthizer reiterated his eagerness to strike a free trade agreement with Japan, a deal Tokyo does not seek given its preference for the Trans-Pacific Partnership, an 11-member regional FTA.
Referring to the ministerial talks, likely to be held in Washington, Lighthizer said, "We have a fairly aggressive agenda" and that Japan is willing to "work on a variety of issues," but provided no further details.
However, Japanese Finance Minister Taro Aso said in Tokyo on Friday that the country "has no intention to conclude (an FTA with the United States), as we have been saying from the start."
Washington will likely prioritize holding trade talks with China and the European Union, and a renegotiation of the North American Free Trade Agreement between the United States, Canada and Mexico, over discussions with Japan, given its bigger trade deficits with those partners, Aso also said.
Lighthizer and Motegi will meet as U.S. President Donald Trump has threatened to impose additional tariffs of up to 25 percent on imported cars and parts. If invoked, the new duties would significantly affect major car exporters such Japan and South Korea.
The U.S. trade representative said that Trump and Japanese Prime Minister Shinzo Abe have a "very good relationship," but expressed frustration about Washington's "chronic" trade deficits with Tokyo.
Lighthizer also cited the U.S. position that Japan maintains "unfair" trade barriers in a number of areas, such as beef, suggesting he will push Motegi to remove or reduce tariffs on U.S. agricultural products.
U.S. and Japanese officials have said the two governments are expected to discuss how best to realize free, fair and reciprocal trade in the upcoming talks.