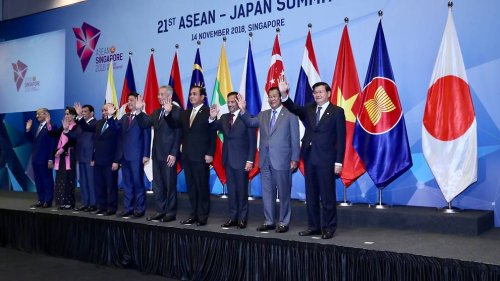 Nikkei Asian Review | 25 February 2019
ASEAN and Japan to ink revamped economic pact in March
by JUNNOSUKE KOBARA
TOKYO — Japan and the Association of Southeast Asian Nations are finalizing updates to their economic partnership agreement to resolve shelved issues on liberalizing the investment and service fields, completing a deal that took effect over a decade ago.
Japan and each ASEAN member will sign amendment protocols as soon as early March that will take effect as each country completes domestic procedures for approval. Abe met with ASEAN leaders in November to confirm the early signing of a deal.
Negotiations for the ASEAN Japan Comprehensive Economic Partnership (AJCEP) began in 2005. The elimination of tariff barriers to trade in goods began to gradually take effect in 2008, while issues related to opening up investment and service fields were tabled.
Japan has separate trade agreements with seven ASEAN members but with varying degrees of liberalization among them, and it has no deals with Cambodia, Laos or Myanmar. The number of Japanese companies with facilities in the 10-nation bloc climbed 70% in the five years through 2017 to about 12,500. Southeast Asia is shoring up its business environment as the region's economy grows.
In Myanmar, where liberalization lags, the completion of AJCEP will loosen restrictions on foreign capital in the construction, education, communications, finance and shipping industries. Companies must keep foreign ownership below 35% to operate as a domestic business, which are not tightly regulated. Overseas companies will be able to expand their stakes under the amended agreement.
In Laos, the equipment-leasing industry will be among the fields up for liberalization. Indonesia's restaurant and environmental industries will also open further. In addition, foreign companies will be able to use an investor-state dispute settlement framework for the first time when facing discrimination, reducing business risks for Japanese companies.
The deal will also improve government transparency. Emerging countries often unilaterally reject foreign companies' new business operations, but the updated agreement will require authorities to state their reasons.