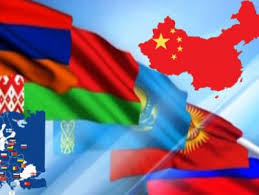 Urdu Point - 10 April 2019
Eurasian Economic Union not ready to fully abolish trade restrictions with China - Official
The Eurasian Economic Union (EAEU) member states are not ready to create a free-trade area (FTA) with China, Minister for Trade of the Eurasian Economic Commission (EEC), the executive body of the union, Veronika Nikishina told Sputnik.
"At this stage, the business of the EAEU member states is not yet ready to support a full-scale opening of markets [with China], as required by the rules of creating an FTA," Nikishina stated.
According to the high-ranking official, before the start of negotiations on a FTA it is necessary to analyze possible consequences of such a step.
"The economy of the EAEU member states is extremely heterogeneous, therefore, [we need] to assess the benefits and risks for every member state," she explained.
Nikishina noted that in May 2018 the EAEU and China signed an agreement on trade and economic cooperation.
"China has already ratified this agreement. The EEC and the EAEU member states are completing the necessary procedures. In this regard, we believe that the accord will enter into force in the near future," she said.
The Treaty on the EAEU, an international organization for regional economic integration, was officially signed in 2015. The organization provides for free movement of goods, services, capital and labor, determined by the union's treaty and international agreements. The member states include Armenia, Belarus, Kazakhstan, Kyrgyzstan and Russia. According to the data from the union's website, the Gross Domestic Product (GDP) of the whole bloc is about $1.9 trillion.
China, Thailand, Egypt, India have repeatedly expressed their intention to create a FTA with the EAEU. In 2018, Iran signed a temporary agreement on the creation of such a zone with the union.