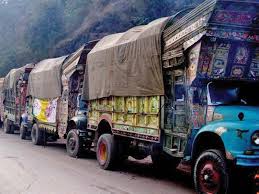 Business Recorder - 3 July 2019
Pakistan, Iran to discuss trade proposals today
By Mushtaq Ghumman
A high level Iranian delegation headed by Iranian Commerce Minister Raza Rehmani is reaching Islamabad on a two day visit to attend Pak-Iran Joint Trade Committee (JTC) scheduled on Wednesday (today). Both countries are expected to discuss three proposals for trade with Iran which include seeking waiver on sanctions from the US, like Switzerland, barter trade and setting up a special bank on the pattern of India.
The sources said that the committee had been constituted under the chairmanship of Minister for Revenue Hammad Azhar and including representatives from public and private sector (Quetta Chamber of Commerce and Industries) to find out a way forward on improvement in trade relations with Iran. During the meetings of the committee, the SBP stated that since the entire banking sector is under sanctions, it is not possible to open branches of Iranian banks in Pakistan. Following deliberations, the committee has come up with the following proposals to overcome the payment problem with Iran: (i) seek waiver from the US on sanctions; (ii) establish a mechanism for barter trade; and (iii) set up a dedicated bank to do business with Iran.
Talking about Pak-Iran Free Trade Agreement (FTA), the sources said, in order to finalise the Free Trade Agreement (FTA) with Iran, a couple of meetings of the Technical Negotiating Committee (NNC) have been held since 2016. Draft of FTA in goods and Mutual Recognition Agreement (MRA) on Technical Barriers to Trade (TBT) and sanitary and phytosanitary have been shared.
Pakistan is of the view that Iran should take measures to fully operationalize existing Preferential Trade Agreement (PTA) until FTA is finalised. Over the years, Pakistan's relations with Iran have remained mired in several layers of mistrust, the most recent being Pakistan's demand that Iran must take action against training camps of Baloch terror organizations on its soil.
Previously due to security issues along the Pak-Iran border, negative public statements against Pakistan have emanated from Iran, and the government, as part of its principled approach to strengthen its relations with neighbouring countries, is eager to explore all avenues to strengthen bilateral relations with Iran particularly in the economic areas.
Pakistan can apply for waiver on the following grounds: (i) Pakistan's economy is highly dependent on import of oil while Iran is an oil producing country and can offer oil to Pakistan at a comparatively cheaper price; and (ii) there has always been demand of medical/surgical instruments and Pakistani rice and fruits in Iran. Pakistan is quite capable of meeting Iranian needs of these products by improving the requisite logistics/infrastructure in this regard.
In case legal means of trade are not explored between Iran and Pakistan, the population in border areas is likely to be involved in exploring illegal means/channels of trading goods, which may ultimately give rise to the greater risks of money laundering and terror financing. Iranian authorities are charging a fee from Pakistani drivers and business community of Rs 3,750 as compared to Pakistan visa fee of Rs 2,750 being charged by Pakistan from Iranian citizens. The visa can be cancelled any time by Iranian authorities without assigning any reason
Pakistan is also considering various options for engaging in trade with Iran. Currently, trade with Iran is conducted mainly through Dubai. According to the State Bank of Pakistan, although, a Memorandum of Understanding (MoU) was signed between SBP and Bank Markazi Jamhouri Islami Iran (BMJII) on April 13, 2017 in Tehran, Pakistani banks are still reluctant to do business with the Iranian banks and have adopted a risk averse approach especially after the recent penalty imposed on Habib Bank Limited by US treasury. Another reason is comparatively low volume of trade with Iran compared with USA.