Bangkok Post | 26 May 2007
Asian FTAs provide few benefits
'There are lots of timid pandas and a few tigers that don't roar much,' says a World Bank economist
UMESH PANDEY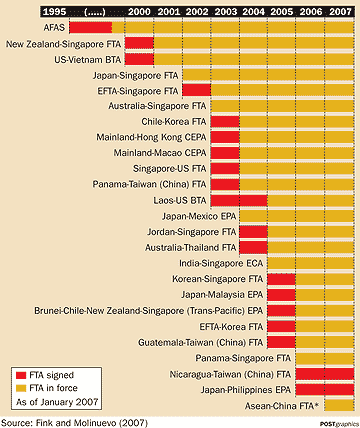 While most Asian countries are negotiating free trade agreements, very few of those deals have resulted in any real benefits, a World Bank study shows.
"What we have are lots of shallow FTAs that do not offer much," Carsten Fink, a senior economist for international trade at the World Bank, said in a recent seminar in Bangkok.
Mr Fink, who is preparing a paper on the pros and cons of regional FTAs, says that although most trade deals focus on gains in economic welfare and tend to generate quick results, smaller countries often end up with an unfair deal.
Since 1995, about 11 trade agreements have been signed each year.
Between January 2004 and February 2005 alone, the World Trade Organisation (WTO) received 43 notifications, setting a historical record.
Until recently, Southeast Asian countries have been hesitant to enter bilateral or regional arrangements, according to Mr Fink's report.
As of 2003, East Asia averaged only two FTAs per country, compared to a world average of five trade deals per country.
Now the region is catching up fast, but the actual deals are not terribly exciting.
"There are lots of timid pandas and a few tigers that don't roar much," Mr Fink told the seminar.
The contributions of East Asian FTAs are not limited to particular sectors, he said.
Construction and distribution services received the most attention in trade deals, with more than 50% of sub-sectors and modes showing improved or new liberalisation commitments. These were followed by tourism, business, communications, and recreational, cultural and sporting services, where about 40% of sub-sectors and modes revealed that the FTA added value.
The smallest contributions were made in education, environmental, health, transport, and financial services, with only 25% to 31% of subsectors and modes showing improved or new FTA commitments.
"These results confirm the well-known sensitivities toward liberalisation in these sectors, even though FTAs were still able to make some inroads toward greater openness," Mr Fink's research says.
"In the case of financial services, the comparatively modest contribution of FTAs may also be due to the already wide coverage of GATS (General Agreement on Trade in Services) - an outcome of the post-Uruguay Round financial services negotiations in 1997."
The overwhelming share of FTA commitments are still only partial in nature. While this may reflect the strict criteria for classifying a commitment as "full", it appears that trade deals do not provide for immediate free trade across the board, but only offer a step in that direction, the report says.
Mr Fink says that FTAs involving East Asia are proliferating at a mind-boggling pace, and especially in light of their large and fast-growing markets.
Many countries in the region are seen as attractive partners for bilateral or regional trade deals.
Most recently, the European Union, which has not entered into an FTA with an East Asian country or group, named Asean and Korea as priorities in its new trade-policy strategy.
If current trends continue, the bulk of international commerce in East Asia will be governed by rules and commitments under these many agreements.
Indeed, many future commercial transactions may be governed by more than one FTA. New Zealand and Singapore, for example, have already entered into two FTAs - a bilateral agreement and a regional agreement involving Brunei and Chile. A third common FTA is under negotiation as part of the Asean-New Zealand partnership.
Countries have many reasons to strike trade deals, as they lead to more open markets, even if liberalisation occurs only with respect to certain trading partners, Mr Fink said.
As such, countries have two strong reasons to liberalise: First, they may face less resistance from vested interests suffering from foreign competition; second, if the outcome of preferential liberalisation proves successful, support for opening multilateral markets may be strengthened.