Is the European Commission sweet on land grabbing? Trade benefits, sugarcane concessions and dispossession in Cambodia

posted 23-July-2012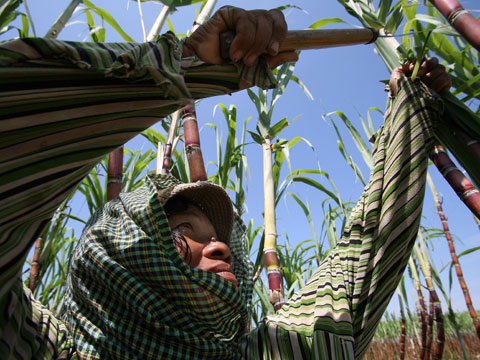 Terra Nullius | July 23, 2012
Is the European Commission sweet on land grabbing? Trade benefits, sugarcane concessions and dispossession in Cambodia
by David Pred
David Pred is co-founder and managing associate of Inclusive Development International (IDI), an association working to make the international development paradigm more just and inclusive.
Before you reach for that Tate and Lyle sugar packet to sweeten your coffee, you might want to think twice. While most Tate and Lyle sugar packets carry the Fair Trade label, Cambodian farmers who were displaced and dispossessed by their suppliers say that if you are buying this product, you are buying their blood. Earlier this month, representatives of affected communities called for a consumer boycott of companies selling sugar grown on stolen land, including Tate and Lyle Sugars.
Over the past several years, hundreds of thousands of Cambodians have been uprooted from their homes, farmlands, and forests by companies that have been granted concessions for the development of agro-industrial plantations.
The sugarcane industry has been one of the worst offenders in this land-grabbing crisis. In the last five years, land concessions totaling tens of thousands of hectares have been granted to private companies for industrial sugarcane production. These concessions have led to the destruction of protected forests and the pollution of water sources. Local farmers' crops have been razed and their animals shot. Homes have been burned to the ground. Thousands of women and children have been left destitute. Some have been thrown in jail for daring to protest.
Despite the abundant evidence of these crimes, none of the responsible individuals and companies have been held to account. As if that wasn't scandalous enough, this 'blood sugar' is being exported to Europe, where it receives special trade benefits under the EU's Everything But Arms (EBA) initiative. Through this preferential trading scheme, the world's least developed countries are able to export goods to the EU with zero tariffs or quotas, and in the case of sugar, at a guaranteed minimum price.
It should be a crime to peddle goods produced on stolen land, but instead the land-grabbers are awarded special trade privileges.
When goods are produced fairly, these trade preferences can boost economies and create desperately needed jobs in countries like Cambodia. However, the fatal flaw of this deal is that any company can benefit from it – no matter how criminal and exploitative they are – as long as they are based in one of the world's 50 least developed countries. Far from benefiting the poor, the agro-industrial investment that has increasingly been attracted to Cambodia due to its EBA status has resulted in the impoverishment of a significant segment of the Cambodian population. The benefits, meanwhile, have remained concentrated in the hands of Cambodia's business and political elite.
Campaigners have called upon the European Commission to investigate land-grabbers in Cambodia and revoke their trade privileges in line with the human rights provisions of European trade regulations. So far, the Commission has refused to take action, arguing that the forced displacement and dispossession of over 700,000 Cambodians in the past decade does not rise to a serious enough level to justify an investigation. Given the patent absurdity of that argument, one is left to wonder if the Commission is simply protecting European importers and investors that that are benefiting from the EBA – human rights be damned.
Campaigners have also called upon the responsible companies to provide restitution to those who have lost their land, homes and livelihoods to make way for their plantations. A coalition of non-governmental organizations wrote to Tate and Lyle PLC in 2010 after it imported its first 10,000 tonnes of cane sugar from a Thai-Taiwanese-Cambodian joint-venture which is implicated in the destruction of crops, shooting of villagers and seizure of farm and pasture land belonging to more than 400 families. A representative of Tate and Lyle PLC replied initially that it would undertake an audit of its Cambodian suppliers, but responded to a follow-up letter that the company had sold its Sugars business and, as a consequence, saw "no need to have any further discussion" with the concerned organizations.
American Sugar Refining, Inc. (which owns the North America brand Domino Sugar) purchased Tate and Lyle's sugar business for £211m on 30 September 2010. As part of the deal, ASR gets to use the Tate and Lyle brand in connection with sugars in perpetuity. The US-owned European sugar business is now operating under the name Tate and Lyle Sugars and continues to market the world's oldest brand – Lyle's Golden Syrup.
While Tate and Lyle Sugars has committed to convert 100% of its retail branded sugar to Fairtrade, the vast majority of the company's business is in the industrial sugar trade – peddling sugar that is about as far from fair trade as possible to your favorite chocolate and soft drinks producers.
The NGO coalition wrote to the directors of ASR requesting their response to the evidence of their suppliers' land theft. A response from the company was never received.
Given the company's utter disregard for the rights of people harmed by its suppliers, last week the Cambodian Clean Sugar Campaign released an online video showing blood oozing out of the iconic Lyle's canister onto a pile of breakfast pancakes and urged consumers to boycott Tate and Lyle Sugars products.
Until governments take action to stop land-grabbing and ensure redress for victims, it falls on consumers to stop buying the products of the perpetrators. Lets start by telling Tate and Lyle Sugars that we won't buy their sugar until a just remedy is provided to the Cambodian families whose lives were destroyed by its suppliers.
Watch the video, sign the petition and visit the campaign website to learn more.