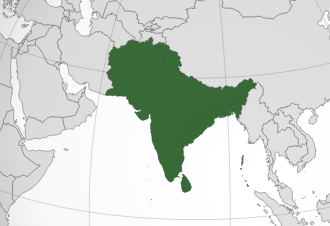 The South Asia Free Trade Agreement (SAFTA) was agreed to among the seven South Asia countries that form the South Asian Association for Regional Cooperation (SAARC): Bangladesh, Bhutan, India, Maldives, Nepal, Pakistan and Sri Lanka
SAFTA came into effect on 1 January 2006, with the aim of reducing tarrifs for intraregional trade among the seven SAARC members. Pakistan and India are to complete implementation by 2012, Sri Lanka by 2013 and Bangladesh, Bhutan, Maldives and Nepal by 2015.
SAFTA replaces the earlier South Asia Preferential Trade Agreement (SAPTA) and may eventually lead to a full-fledged South Asia Economic Union.
The road to implementation, however, is plagued by the overarching conflict between India and Pakistan.
last update: May 2012
Photo: Serg!o/Wikipedia/CC BY-SA 3.0
---
Following is the text of Agreement on South Asian Free Trade Area (Safta) signed at the 12th Saarc Summit, concluded here on Tuesday: Agreement on South Asian Free Trade Area (SAFTA)
Can the South Asian Free Trade Agreement lead to an economic union? By all counts, and indications, such a union is still a distant dream.
Links

---

The South Asian Association for Regional Cooperation (SAARC) comprises the seven South Asian countries of Bangladesh, Bhutan, India, the Maldives, Nepal, Pakistan and Sri Lanka