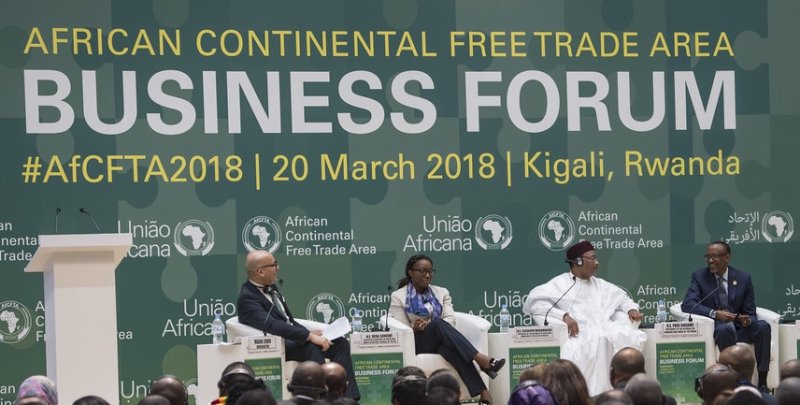 The African Continental Free Trade Area (AfCFTA) is a trade agreement that has been operational since 30 May 2019, between 22 states of the African Union (AU). It aims to create a vast free trade area of over 1.3 billion people with a combined GDP of over US $ 2 trillion. As of April 2020, 29 countries have ratified the agreement. It officially came into force on 1 January 2021.
The idea of creating an Africa-wide free trade area emerged at the 2012 AU summit in Addis Ababa. Negotiations began in 2015 and the deal was signed by 44 of the 55 AU member states in March 2018, during the AU summit in Kigali. At first, large economies such as South Africa and Nigeria refused to endorse the agreement. However, South Africa signed in July 2018 while Nigeria joined at the 11th hour in July 2019. Eritrea is the only AU state that has refused to sign.
The AfCFTA aims to liberalize 97% of products, 90% of non-sensitive products followed by 7% of sensitive products. Phase 1 of the negotiation process has focused on trade in goods and services. Phase 2 includes competition policy, intellectual property and investment and is aimed to be completed by 2020. Phase 3 will then incorporate e-commerce protocol.
Even though the agreement has been in force, key substantive issues are still to be completed, including some rules of origin, tariff concessions and specific services sector commitments.
While the proponents of the deal have claimed the AfCFTA will foster development in Africa and help African businesses, the deal has also attracted criticism and opposition.
The AfCFTA has been depicted by some as Afro-liberalism disguised in pan-Africanism, which relies on the same free-market capitalism dogma that only benefits transnational capital, and supported by major international institutions and agencies such as the EU, UNCTAD, the WTO and the World Bank.
So far, the strongest opposition to the AfCFTA in Africa has occurred in Nigeria. Business groups, manufacturers, traders, farmers, small and medium enterprises have expressed concerns that Africa could become a dumping ground of cheap products coming from abroad, which could wreak havoc on the ongoing industrialization process.
Senegalese economist Ndongo Samba Sylla called it a "premature initiative" that would benefit major foreign businesses, as well as African heavy weights. He argues that working on industrialization, development of pan-African infrastructures in the road, maritime, rail, air and IT sectors should come first.
Some foreign powers have already seen opportunities arising from the AfCFTA. China is planning to capitalize on it to connect African and Chinese markets to promote the free movement of goods, persons, capital and technologies. India is close to clinching a trade deal with Mauritius, which would provide a foothold into Africa. Turkish investors also see possibilities for development within the whole continent, while the EU might consider a mega trade deal. The African Union would be in favour of an Africa-US trade deal when the African Growth and Opportunity Act (AGOA) expires in 2025.
The text of the AfCFTA is available here: https://www.bilaterals.org/?afcfta-consolidated-text-march
Last update: January 2021
photo: Paul Kagame/CC BY-NC-ND 2.0