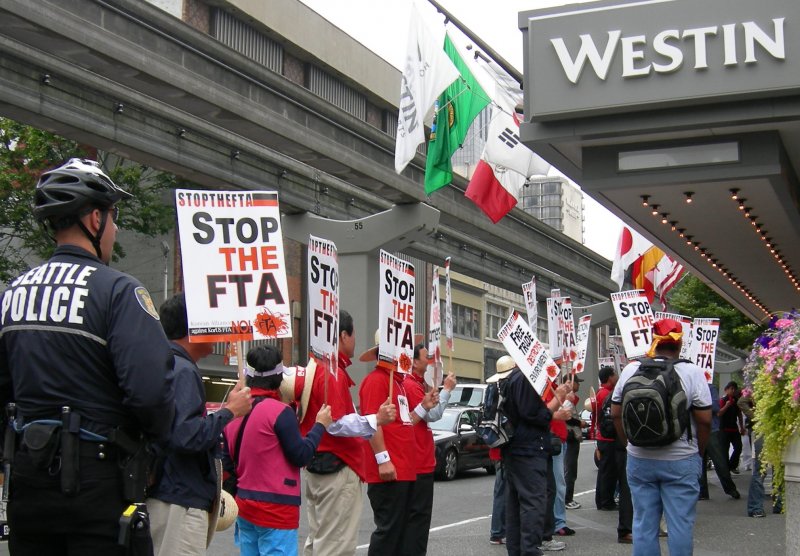 The US-Korea free trade agreement (or KORUS FTA, as called in Korea) has been one of the most controversial since NAFTA, if one could measure in terms of social mobilisation. Millions of people have fought against this deal, taking to the streets and flying across the Pacific to try to defeat it.
Washington and Seoul talked about a possible free trade agreement for several years before anything got started. As it turns out, the US had four preliminary demands for the Korean government to fulfil before any FTA talks could start. The four prerequisites were:
– suspending regulations on pharmaceutical product prices so US drug firms could get a better deal in the Korean market (secured in October 2005)
– easing government regulations on gas emissions in imported US cars so that more American cars could be sold in Korea (secured in November 2005)
– resuming importation of US beef, which were stopped in 2003 because of mad cow disease in the US (agreed in January 2006) and
– reducing South Korea's compulsory film quota for cinemas from 146 days per year to 73 days so that more American films could be shown (agreed in January 2006).
Once the Roh administration caved in to the last item, the two governments announced, on 2 February 2006, that FTA talks would start in May 2006 and end by June 2007.
The implications of the US-Korea FTA stretch far beyond Korean movie houses as the agreement would open the entire Korean economy to US corporate penetration. Korean farmers and workers organised a strenuous resistance to the deal, with support from actors, students, health professionals, consumers groups, environmental organisation, veterinarians, lawyers and other sectors. Alliances were also built with opponents to the deal in the US, including AFL-CIO, the country's largest labour union.
The first round of negotiations took place in the US on 5-9 June 2006. Ten months and eight formal rounds (not to mention numerous side talks on side agreements) later, the deal was concluded on 2 April 2007 in Seoul, just hours after a Korean taxi driver commited self-immolation in protest to the signing.
This was not the end, however. Two weeks later, newly elected Korean President Lee Myung-Bak travelled to Washington to sign the FTA. While there, on 18 April, the two governments inked yet another side deal that the US insisted was necessary for the FTA to go through. This deal laid out explicit rules on how Korea was to open its market in the broadest way to US beef imports, despite concerns about mad cow disease. The adoption of this secret pact triggered off what became known as the "beef crisis" in Korea. Students, mothers and consumers raised a fury of candlelight protests and other actions that by June 2008 had ministers resigning and the president own tenure under threat.
After several more years of sustained opposition to the agreement, the US-Korea FTA was finally ratification by both countries' parliaments and took effect in November 2011 However opposition to, and concerns about the FTA have not faded since it passed, with many worried about the implications of the investor-state dispute mechanism in the deal.
last update: May 2012
Photo: Joe Mabel / CC BY-SA 3.0