Activists seek human impact assessment of proposed EU-India trade pact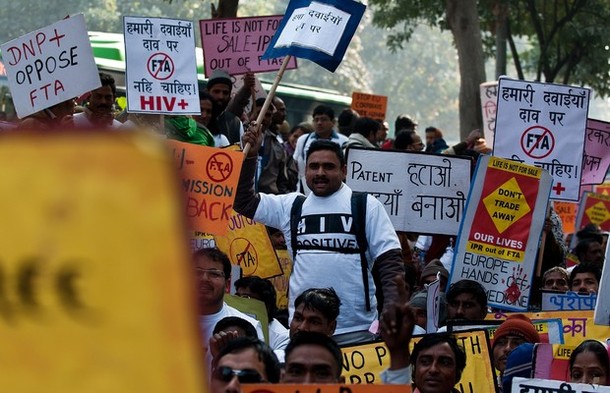 Hindu Businessline
Activists seek human impact assessment of proposed EU-India trade pact
New Delhi, Feb. 10 2012
As India and the European Union met for a summit in New Delhi on Friday, thousands of food, retail, and health activists took to the streets in the Capital to protest against the proposed Free Trade Agreement (FTA).
Demanding a wider public debate with key stakeholders, the activists urged the Government to bring out a white paper or policy document, as also do a human impact assessment before signing on the dotted lines.
"If the FTA comes into force, my lifeline will be gone. I will not be able to afford the medicines," wept an HIV+ man's pregnant wife at a press conference. She was joined by thousands of HIV-affected people being treated by international medical humanitarian organisation, Médecins Sans Frontières (MSF).
MSF's Ms Leena Menghany said "India has been called the pharmacy of the developing world because it produces quality affordable generic medicines … Thanks to competition among generics producers here, the price of first-line HIV drugs has dropped by over 99 per cent from $10,000 per person per year in 2000 to roughly $150….Existing trade rules already limit the possibility of making generic versions of new medicines, but once the FTA is in force, the situation will become worse by creating new intellectual property barriers. "
Food activist Mr Biraj Patnaik said, the proposed FTA would be a double-edged sword for 80 per cent of Indian farmers, who own less than two hectares. 'The farmers will suffer both as consumers as well as producers," he said, and added the poultry and dairy sectors would also be impacted by tariff reduction.
On banking services, Mr Kavaljit, a financial analyst, said preferential market access to almost all services such as retail, banking, legal and postal would go against the Government's 'financial inclusion' agenda.
"Will the European banks be asked to open rural branches or even given access to the urban poor?" he asked, and added that it was India's financial stability that was an attraction for stumbling European banks whose funds were drying up.
[email protected]
---