EFTA, Philippines hold first FTA negotiations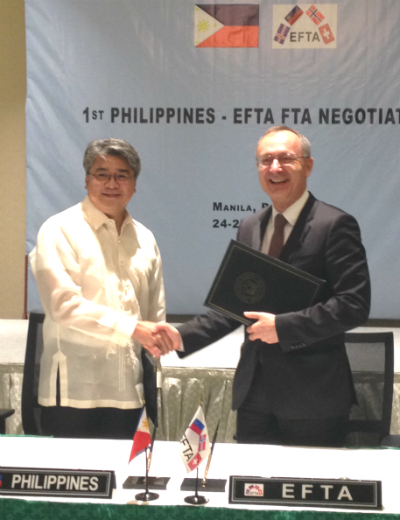 Tax-News.com | 30 March 2015
EFTA, Philippines hold first FTA negotiations
by Ulrika Lomas
Brussels
The first round of free trade agreement (FTA) talks between the Philippines and the members of the European Free Trade Association (EFTA) – Iceland, Liechtenstein, Norway, and Switzerland – was held on March 24-27, 2015, in Makati, Philippines.
The FTA negotiations were launched four months after both sides agreed on deal parameters. Various working groups have been convened to discuss trade in goods and services, investment, intellectual property rights, competition, government procurement, trade and sustainable development, and legal and institutional issues.
Prior to the formal FTA talks, a Joint Declaration on Cooperation was signed between the Philippines and EFTA on June 23, 2014, in Iceland.
The next round of negotiations is scheduled for June 2015.
Total trade between EFTA and the Philippines amounted to USD633m in 2013. The EFTA countries exported goods to the Philippines worth USD440m, while their imports from the Philippines were worth USD193m.
---