EU, Mexico reach 'agreement in principle' on free trade deal
All the versions of this article: [English] [français]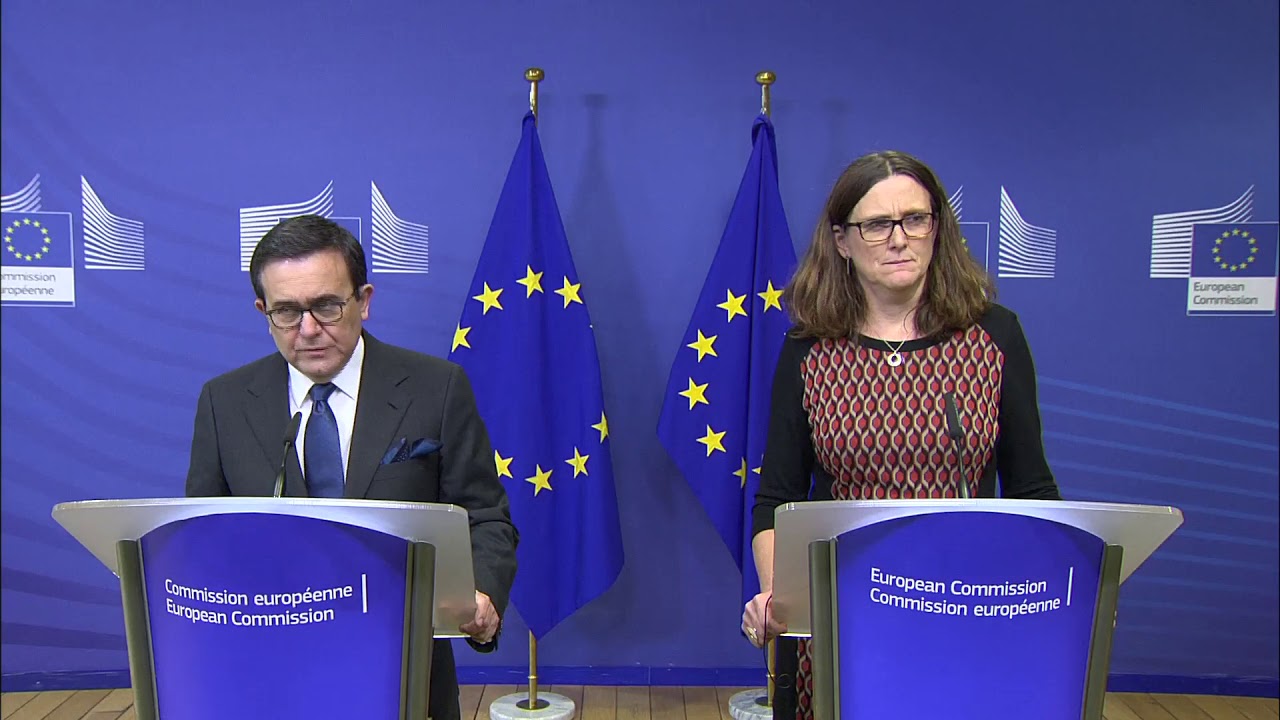 Euractiv | 23 April 2018
EU, Mexico reach 'agreement in principle' on free trade deal
The EU and Mexico said Saturday (21 April) they had reached an "agreement in principle" to modernise an existing free trade deal, as the Latin American country faces pressure from protectionist measures threatened by US President Donald Trump.
Under the updated terms of the 2000 deal, "practically all bilateral trade in goods will now be duty-free, including in the agricultural sector," the European Commission, the EU's executive arm, said in a statement.
The new deal adds farm products, more services, investment and government procurement, and also contains provisions to simplify custom proceedings, fight corruption and strengthen the Paris Agreement on climate change.
It comes after talks broke down last years, over disagreement on the liberalisaiton of trade in agricultural goods.
Deal to be finalised by the end of 2018
The agreement in principle with Mexico follows a deal struck last year with Japan and comes ahead of talks next week with the Mercosur bloc of Argentina, Brazil, Paraguay and Uruguay.
The move is seen as sending a strong signal to Trump who last year launched renegotiations of what he has previously referred to as Mexico's "cash cow" – the North American Free Trade Agreement (NAFTA).
The US leader's threat to axe NAFTA altogether if he is not happy with the new conditions has stoked tensions and uncertainty among signatories to the deal, which also include Canada.
The EU-Mexico agreement was reached after "months of intense negotiations, said a statement co-signed by EU Trade Commissioner Cecilia Malmström, her agriculture counterpart Phil Hogan, and Mexico's Economy Minister Ildefonso Guajardo Villarreal.
While some "technical issues" remained, Brussels said it expected to finalise the full legal text by the end of the year.
"In less than two years the EU and Mexico have delivered a deal fit for the economic and political challenges of the 21st century," said Malmstrom.
"Today's agreement also sends a strong message to other partners that it is possible to modernise existing trade relations when both partners share a clear belief in the merits of openness, and of free and fair trade."
Deal modelled on CETA
The pact, which is modelled on a recently agreed trade deal between Brussels and Canada, will then need to be green-lighted by the bloc's member states and the European Parliament.
On Wednesday, the EU unveiled plans to fast-track deals with Japan and Singapore, saying it was leading the defence of free trade in the face of US "protectionism".
"With this agreement, Mexico joins Canada, Japan and Singapore in the growing list of partners willing to work with the EU in defending open, fair and rules-based trade," European Commission chief Jean-Claude Juncker said Saturday.
The deal will also allow Mexican companies to bid for government contracts in Europe and EU companies for those in Mexico, including at state level.
Since a bilateral free trade pact was first signed in 2000, trade between the EU and Mexico has risen at a yearly rate of around 8% per year, resulting in an overall increase of 148% over that period, according to the European Commission.
Access to agricultural goods
Mexican Economy Minister Ildefonso Guajardo said the deal would grant his country better exporting opportunities for products including orange juice, tuna, asparagus, honey, egg white albumin, as well as "equitable access" for meat products.
Conversely, it guarantees Mexico cheaper access to EU agricultural goods including cheeses, milk powder, pork and chocolate. The deal will, for example, cut Mexican tariffs of up to 20% on cheeses such as gorgonzola and increase EU pork exports, the Commission said.
It will also protect "geographical indications" for certain food and drink, a key EU demand, the Commission said, emphasising that "340 distinctive European foods and drink products in Mexico" will be protected from imitation. Such indications protect agricultural produce – for example, dictating that the term "champagne" can only be used for sparkling wine from northern France.
It was not clear, however, how the divisive issue of "manchego" cheese had been settled. The EU says the term should only apply to sheep's milk cheese from central Spain, but Mexico has its own "manchego" made from cow's milk.
Merkel: "Really good news for Europe"
German Chancellor Angela Merkel on Sunday welcomed the agreement, saying it would benefit Mexico, Europe and Germany.
"The technical work should take place quickly now but it's really good news for Europe, for Germany and for Mexico," Merkel said at the opening ceremony of the Hanover trade fair which was also attended by Mexican President Enrique Peña Nieto.
Nieto said he felt upbeat about reworking the North American Free Trade Agreement (NAFTA) which includes Mexico, the United States and Canada.
"We fully trust and we have optimism as well that we're going to be concluding the renegotiation, modernisation of the North American Free Trade Agreement with North America, as I have said, ensuring benefits for all its partners," he said at the opening ceremony of the Hanover trade fair.
---