Fishing pact loses EU millions in Morocco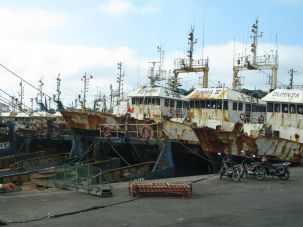 Reuters | Wed, 08 Jun 2011
Fishing pact loses EU millions in Morocco
A politically divisive fishing pact between Morocco and the European Union has been costing Europe millions of euros a year and could deplete Morocco's fish stocks, according to a report.
The EU confidential report says Europe has been unable to profit from the treaty, increase access to fish or impose environmental standards, findings that are likely to erode support among EU governments and lawmakers for the accord.
The treaty, which took effect in 2007, has also long been criticised for tightening Morocco's hold over Western Sahara, a resource-rich territory to the south that Morocco annexed in 1975 and has become Africa's longest land dispute.
'The EU has paid too high a price to support its fishing fleet,' said the 112-page report for the EU Commission.
Europe has paid Morocco 36.1 million euros a year since 2007 so that its boats can fish off the coast of Morocco and Western Sahara, an area with vast resources of fish, phosphates and potentially oil, as an alternative to Europe's depleted stocks.
But rather than turning a profit as similar EU agreements have done, fishing turnover fell short of the 36.1 million investment by about 6 million euros a year, the report found.
EU fishermen land around 44,000 tonnes of fish a year, mainly sardines and anchovies — 5 percent of Morocco's total catch and a fragment of Europe's 13-million-tonne consumption.
'The fleet's contribution ... to meeting the needs of the European market is ... rather marginal,' the report said.
Continued EU fishing could harm the region's fish stocks, already exploited and in part overexploited by local fishermen. 'The EU has not had any strategic impact in defining measures to promote responsible fishing practices,' it said.
Diplomats and lawmakers say the report will be given serious consideration during discussions over whether to extend the pact to 2012, and a four-year renewal after that.
'We'll have to see if this agreement is going to be renewed as it stands,' said Carmen Fraga, a Spanish conservative party delegate and president of the European Parliament's fisheries committee who has backed the fisheries agreement in the past.
'But our European fishing sector cannot be left stranded. As for human rights, that's a horizontal problem. Why is this agreement the only pact where this is raised as an issue?'
Spain, home to fish processing giant Pescanova, has led the push to keep the pact in place, arguing it provides employment for European fishermen, among other benefits.
An end to the EU-Moroccan fisheries deal could trigger a more wholesale examination of governments and firms doing business in Moroccan-occupied Western Sahara, said Sara Eyckmans of the Western Sahara Resource Watch.
Pressure on the pact has been mounting since last year, when the European Commission requested evidence from Morocco that the agreement benefits the local Sahrawi population as a precondition to discussing a four-year renewal of the treaty.
---