GCC-EU free trade agreement soon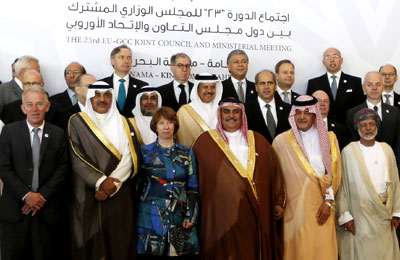 TradeArabia News Service | 1 July 2013
GCC-EU free trade agreement soon
Manama — Talks that could lead to a historic GCC-EU Free Trade Agreement (FTA) have reached the final stages, and the deal could be signed soon, said Bahrain's Foreign Minister Shaikh Khalid bin Ahmed Al Khalifa.
"The EU-GCC FTA is not yet signed but we are looking at this comprehensive agreement positively," he was quoted saying by the Gulf Daily News, our sister publication.
"I can say that almost 99 per cent of the items have being agreed and only one issue related to export duties is currently being reviewed before any decision is reached," he added, speaking at a Press conference on the sidelines of a GCC-European Union (EU) meeting at the Ritz-Carlton, Bahrain Hotel and Spa.
Momentum
The landmark deal was discussed by representatives from 27 EU member states and GCC Foreign Ministers as part of the 23rd EU-GCC joint council ministerial meeting.
The one-day event was chaired by Shaikh Khalid in the presence of his counterparts from GCC states.
Talks about the regional FTA began in 1990, but gained momentum after the GCC Customs Union was established in 2003.
However, the GCC suspended talks at the end of 2008 following disagreements about clauses addressing export duties and human rights.
But EU officials continued to meet GCC officials to push for the agreement via informal contacts between negotiations.
"We want to finalise this key agreement as soon as possible as it will be a huge achievement for EU and GCC states," said Shaikh Khalid.
"If we can sign it today we will without any hesitation but the point on export duties is complex and needs to be reviewed.
"Several years have now elapsed since the start of negotiations on the FTA between our two blocs and despite the strenuous efforts made by all parties, we should now strive harder to overcome the remaining obstacles to finalise signing of what would be an FTA between the two major blocs in the free world," he added.
The GCC is the EU's fifth biggest export market worth 75 billion euros ($97.5 billion) in 2011 and the EU is the grouping's biggest trading partner, with 13.5 per cent of the GCC's global trade.
"The GCC is an increasingly important partner, not least because our bilateral trade has increased by 45 per cent since 2010 to reach 145 billion euros annually," said EU High Representative for Foreign Affairs and Security Policy Catherine Ashton.
"All issues regarding the EU-GCC FTA are done except the point on export duties, which is the only outstanding issue. It is a fantastic trade agreement."
Ashton said discussions with Gulf Foreign Ministers also focused on strengthening ties between the EU and the Gulf and touching on the situation in the region.
"This meeting is constructive and useful at an important time and shows that we are ready to work on issues of common concerns and interests," she said.
"I am hoping and closely watching the implementation process of the FTA with the GCC."
Ms Ashton said the ministerial meeting was also an occasion for ministers to exchange views on global issues of common concern such as piracy, counter-terrorism and the promotion of human rights, the rule of law and values of tolerance. "We have to be frank and have open discussion even if there is difference in perspective for example on human rights issues," she added.
---